Latinx students at the Massachusetts Institute of Technology were celebrated at the inaugural MIT Latinx Graduation, held May 31 at the MIT Media Lab.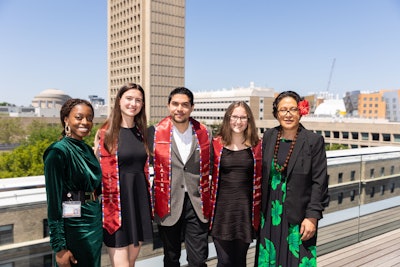 The event – hosted by the MIT Latinx Graduate Students Association (LGSA), Latino Cultural Center (LCC), and Latino Alumni of MIT (LAMIT) – featured guest speaker Jenny Larios Berlin, entrepreneur in residence at the Martin Trust Center for MIT Entrepreneurship and lecturer at MIT.
Berlin advised students not to be afraid to ask for help as they launch their careers.
"It was an honor to plan the first Institute-wide Latinx graduation ceremony, a process that began over a year ago with the mission to recognize not only the academic achievements of our community but also this large milestone within our culture and heritage," said LCC President Isabella Salinas '23. "It was a celebration that embraced our shared stories, triumphs, and resilience, making each moment an unforgettable testament to the profound impact of our community's achievements."
More than 140 graduate and undergraduate students received red "Latinx MIT Class of 2023" stoles.
The event was streamed online through MIT's website.
"We are so very grateful to the volunteers, supporters, and sponsors who helped make this dream of ours a reality," LGSA President Albert Fernandez said. "It was clear from those in attendance that the memories of this celebration will endure. We hope that the impact of this moment is carried onward through the lives of a promising generation who have faced insurmountable odds to persevere. It has been an honor to contribute to the community through organizing this inaugural event."