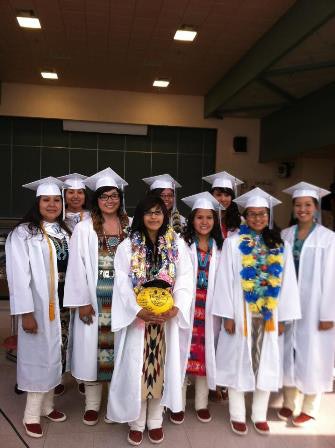 When Philana Kiely would visit her family during holiday breaks in college, she noticed something was different about the younger cousins and kids in her former American Indian community, the Navajo Nation, which sits on the borders of Arizona, Colorado, New Mexico and Utah.
"They were so full of energy, life, promise, potential, but then somewhere along the way, they lost that spark," says Kiely, a half-Navajo, half-White MBA graduate who serves as the interim executive director of the National Association of Women MBAs. Alcoholism, violence and poverty took a toll on the young girls' drive and optimism by the time they had reached their teens. "I wouldn't hear about anyone going to school."
Though Kiely had earned a master's from the University of Houston's C.T. Bauer College of Business and started a job in energy consulting, she was not satisfied. She felt she could do more. Seeing her extended family struggle to further their education inspired her to provide a support network for young American Indian girls, so Kiely reached out to the National Association of Women MBAs to pitch a mentoring idea.
"Even though my parents had gone to college, I didn't really have anyone I could rely on to get there," says Kiely, noting she needed more guidance to navigate the SATs, college applications and scholarship forms. "I thought, 'If my relatives need it, then there [are] probably a lot of people out there that need it.' I wanted to go back to talk to some of the girls to get them excited about their futures."
In 2009, under the umbrella of the National Association of Women MBAs, the Shideezhi mentoring program was born with five mentees. By February 2010, Kiely's role expanded from a volunteer spearheading the program to an employee as the membership liaison charged with taking the new mentoring program to a more professional level.
"They [NAWMBA] asked me to turn it into a national program," Kiely says of the mostly virtual-based program that runs all four academic years of high school.
This year, the Shideezhi Project, which means "my little sister" in Navajo, celebrated its first graduating high school class. To date, the initiative has taken 60 girls under its wings to provide guidance, college counseling and inspiration for success. Every mentee has gone on to at least a two-year college. Kiely says propelling the young women to get a higher education is key to the Shideezhi's mission.
"It's more of a future preparation, career preparation program structure. We have milestones that each of the students have to meet each year," she notes.
According to the Civil Rights Project, American Indian youth have surpassed any other ethnic group in high school graduation dropout rates. Although the American Indian College Fund has reported that enrollment among American Indians and Alaska Natives has doubled in the last 30 years, and the number of advanced degrees conferred to American Indians has doubled in the last 25 years, there is still much that needs to be done to close the education gap.
Therefore, expanding programs like Shideezhi is critical. Chelena Betoney, a 2013 high school valedictorian mentee acknowledges Shideezhi's uniqueness. "There aren't many programs like this on the reservation," says the civil engineering student at Northern Arizona University. "It helped me realized that I have a lot of help out there. I just need to get out of my shell and try new things."
Forming relationships
"High school is such a critical time for youth everywhere, and particularly for vulnerable young students," says Ioana Dumitrescu, a consultant who earned her MBA from the City University of New York's Baruch College and a mentor with Shideezhi. "Mentorship, focused on college applications and career decisions, can make a significant difference into the future leadership roles of American Indian women."
Shideezhi mentors are current and former MBA students from across the country, including some who have worked in academia. After giving the mentors a background check and having the students go through an application process, the two parties are matched. In the first year, sometimes two students were paired with one professional or MBA student, but now Kiely tries to keep the ratio one-to-one.
The program, which started with a $15,000 grant from Wal-Mart with equipment donated by the technology company Raytheon, works with one secondary school on a Navajo reservation and encourages success by building interpersonal relationships between mentors and mentees.
"Even though many of the Navajo girls come from challenging environments and life situations, they are always very welcoming, enthusiastic, fully engaged and embrace the opportunity to connect with their mentors," says Dumitrescu, who is Romanian, adding that not having a common background is no impediment to the work. "One of the causes I am most passionate about is helping vulnerable teenagers to make the right choices — going to college, studying hard and staying financially and physically healthy. Learning about the hardships in the Navajo community, I immediately thought of those back home, in the early stages of post-communist Romania, some years ago."
Dumitrescu says she and her first mentee, Juliana Ashley, "connected immediately in person, and we were able to maintain that connection throughout the year through phone conversations and emails."
It's that personal contact that keeps the girls on track to reaching their milestones, notes Kiely. Bond-forming opportunities include emailing, telephone conversations and meeting in person, though travel expenses for the mentees can be challenging, with costs up to $1,000 per trip. Mentors come from as far as Boston, New York and Washington, D.C., to meet with their mentees.
"We know that to create a stronger bond and better mentoring relationships, we need to bring these people together," says Kiely.
Providing guidance
Shideezhi mentors organize activities to introduce mentees to educational and career possibilities, including financial workshops, college campus visits and other activities.
"We are all MBAs, and the first time we went into the school and asked what an MBA was, no one had a clue," says Kiely, noting many of the program graduates have gone on to study business themselves, as their mentors' career tracks have served as an example. "During our college preparation and leadership activities, I was surprised by the thoughtful questions raised by the girls, even when it was apparent that their knowledge on career matters was limited," says Dumitrescu, who helped her mentee research colleges, apply to schools and look for college scholarships. Dumitrescu has also aided her mentee in setting career goals and focusing on personal interests and relationships.
"I was very proud of my mentee's determination and passion in sports, as well as her focus on college applications," notes Dumitrescu. "Of the two seniors I mentored since joining the program, one student is currently pursuing a four-year college program majoring in the arts, while the other one has started her professional career and is a strong contributor to her community."
Other mentors have had similar positive experiences, Dumitrescu adds. This fall, Shideezhi will welcome a new crop of students, and Dumitrescu hopes to be part of that. "Mentoring has become such a critical factor in helping students do well in high school, and later on, in college … and throughout their career," she says.
Now that Shideezhi has been established, Kiely would like to extend the program to young women in college, in order to set milestones during their university years and beyond. To take that next step, the program needs funding reinforcements and more high school partners to collaborate with on the reservation.
"I still feel like it's in pilot mode," Kiely says. "There's still a lot of financial support that needs to come in before we're able to expand."
Kiely would also like to partner with colleges to provide more college campus visits for the mentees and build a social network-style platform so mentors and mentees can communicate more efficiently and keep in touch. Once the girls leave high school, they are hard to track, says Kiely.
Lucia Ruales, a mentor and assistant director of career services at the University of Miami's business school, agrees that Shideezhi has much untapped potential. "I think the program has the ability to grow to become a college pipeline, as the initial meetings are started in high school.
"We would like to keep them as mentees throughout college and even longer," says Kiely.