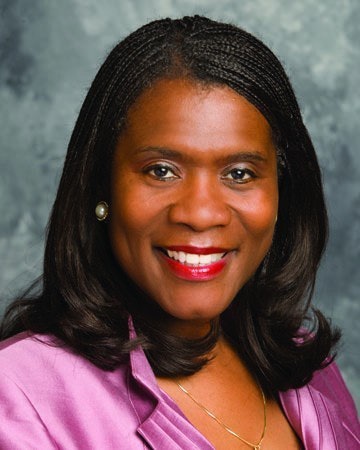 The chancellor of the Tennessee State Board of Regents has announced his recommendation of Dr. Glenda Baskin Glover as the new president of Tennessee State University. Glover is currently dean of Jackson State University's College of Business.
Following a nationwide search that began last May, Chancellor John Morgan said he will recommend Glover to the board at a special telephone meeting on Nov. 27, where approval is expected. Board of Regents director of communications Monica Greppin said in the past all chancellor recommendations for campus presidents have been approved by the board.
Glover will replace Dr. Portia Shields, who served as interim president for the past two years. "Dr. Glover's outstanding credentials and leadership skills are impressive," said Morgan in the announcement. "Her experience as a faculty member, campus administrator and an engaged member of the civic and business communities will serve TSU and the entire region well."
At Jackson State, where Glover has served as business college dean for 18 years, President Carolyn Myers praised her work. "Dr. Glover has been an invaluable asset to Jackson State University, not only exemplifying excellence in her field, but inspiring that same excellence in our students, faculty and staff," Meyers said. "Tennessee State University will be fortunate to have her at its helm."
A 1974 graduate of Tennessee State and a native of Memphis, Glover earned her bachelor's degree in math, an MBA from Clark Atlanta University, a J.D. from Georgetown University Law Center and a doctorate from George Washington University in business economics and policy. She has worked as a certified public accountant, attorney and professor before becoming an administrator at Jackson State.
According to her resume, Glover also has chaired the accounting department at Howard University and worked as an accountant with Arthur Anderson & Co. in Washington, D.C.
Glover's colleagues at Jackson State say her achievements have included obtaining the university's first endowed chair, leading a successful $5 million fundraising initiative, spearheading the implementation of online learning programs, developing a cost-reduction plan and implementing internal fiscal accountability measures.
She was one of four finalists chosen by the Presidential Search Advisory Committee from 86 applicants. Bennie Harris, vice president for Development and Alumni Relations at Lipscomb University, and Candace Campbell Jackson, vice president and chief of staff at The University of Akron, were other finalists. Ainsley Carry, vice president for Student Affairs at Auburn University, withdrew his name from the process.
Tennessee State has experienced governance and fiscal difficulties under its recent leaders, punctuated by a bitter dispute and the arrest of the faculty senate president during an August meeting.
During a video-recorded presentation to the campus community, Glover pledged to initiate a capital campaign to raise funds and to work on building morale and improving academics. "Almost any problem can be resolved through communication," Glover told the group. "I will collect data, talk to individuals … and call the parties together."
She also said, "I can promise you this: that I will work hard every day to make sure we have a university that is reputable, that is professional and meets the needs of our students."
With a current enrollment of 8,775, Tennessee State is the only land-grant institution in the Tennessee Board of Regents system and the only historically Black university in the system.