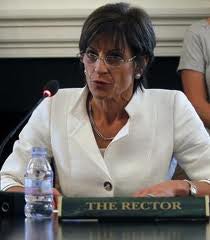 NORFOLK, Va. — The head of the University of Virginia's governing board has been meeting with lawmakers in an attempt to keep her position as opponents lobby for rejection of her reappointment.
Rector Helen Dragas met this week with five senior members of the House and Senate Privileges and Elections committees, which are charged with vetting gubernatorial appointments, The Virginian-Pilot (http://bit.ly/XMPtV0) reported Thursday.
"I'm listening as much as I'm talking," she told the newspaper. "And I've been pleased to find that many of them share an awareness of the challenges facing higher education, especially in terms of funding, quality and service delivery. I know they all share the same abiding commitment that I have to Virginia and to U.Va."
Dragas led the Board of Visitors' effort to oust President Teresa Sullivan, whose resignation shocked the campus community in June. After demand for an explanation, Dragas said the university wasn't acting quickly enough to address state and federal funding reductions, online education delivery and other challenges.
The board reinstated Sullivan two weeks later following protests by students, faculty, alumni and donors.
Gov. Bob McDonnell reappointed Dragas days after Sullivan was reinstated, leading to an outcry from many. The General Assembly will consider Dragas' reappointment when it convenes in January.
"U.Va. is now under a national microscope," said Richard Marks, an attorney and entrepreneur in Northern Virginia who is leading a group of 14 alumni lobbying against the reappointment. "Policymakers who are involved in higher education around the United States, and in fact internationally, are looking to see whether the commonwealth of Virginia has the political will and the fortitude and the common sense to correct this debacle."
Sen. Jan Howell, D-Fairfax County, pledged to oppose Dragas' reappointment in a position paper she wrote for constituents after she met with Dragas.
"We had a frank conversation," Howell wrote. "It is my conclusion that she does not comprehend the damage done to the University of Virginia, nor does she accept responsibility beyond having poorly managed the President's removal."
"To this day, information has not been forthcoming that would meet the standards for removal of the President," Howell wrote.
Del. Steven Landes, R-Augusta County, also plans to oppose Dragas' appointment.
"I represent a number of folks on the U.Va. faculty and staff and alumni, and the vast majority of them are opposed to her reappointment," he said. "It's not a partisan issue. It's about moving the university forward."
Del. Tim Hugo, R-Fairfax County, said "she made a good case for her reappointment" but that he is keeping an open mind.
Sen. Jeff McWaters, R-Virginia Beach, said he is not going to second-guess McDonnell's appointment.
Critics have created a website, http://www.hoosuniversity.org, to urge members of the university community to contact lawmakers and oppose Dragas' reappointment.
Former Gov. Tim Kaine originally appointed Dragas, who is a Virginia Beach real estate developer.
Information from: The Virginian-Pilot, http://pilotonline.com