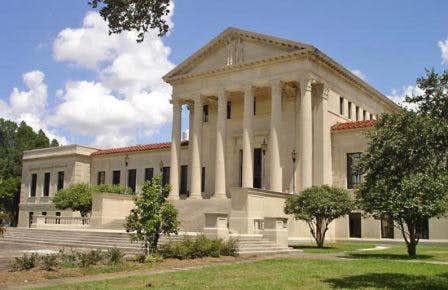 By Eric Freedman
A Louisiana State University police major who was passed over for promotion to chief can pursue her gender discrimination and retaliation claims, a federal appeals court says.
The unanimous decision found that Martha Haire offered sufficient evidence to warrant a jury trial.
Haire joined the department in 1988 and was promoted to major in 2005. In 2007, she applied to replace the retiring police chief. However, an interim chief held the position for two years while the chancellor searched for a permanent replacement.
During that time, the interim chief made sexist remarks, including emailing "dumb blonde" jokes to a police employee, the suit claims. Also during that time, Haire was allegedly excluded from decision-making and encountered repeated acts of hostility from a male major, Lawrence Rabalais, who eventually became permanent chief.
The 6th Circuit U.S. Court of Appeals overturned a lower-court judge's dismissal of the case.
The court said that LSU did offer a legitimate non-discriminatory rationale for not promoting Haire, namely her handling of a criminal report involving the arrest of a dean on felony theft charges. Haire said she was obeying a supervisor's lawful order to file the arrest report, although it led to embarrassing publicity for the dean and the university.
Even so, it said in an opinion by Judge E. Grady Jolly that Haire is entitled to have a jury decide whether that rationale was a pretext for discrimination. It said Haire provided evidence that the university's reprimand of her handling of the arrest report was "a sham justification for not promoting a female applicant who was more qualified" and that she was punished "based on wholly arbitrary and subjective criteria."
It also said there was evidence that Rabalais may have influenced the new chancellor's decision not to promote Haire.
As for the retaliation allegation, the court cited comments by Rabalais, Haire's exclusion from meetings, change in duties and loss of overtime opportunities.
MSU Economics Professor Loses Discrimination Appeal
A former tenured economics professor at Morgan State University who was discharged for misconduct in 2009 has lost his appeal.
The 4th Circuit U.S. Court of Appeals upheld a lower-court judge's ruling that Dr. Victor Whittaker failed to present enough admissible evidence for a trial on his race discrimination and national origin claims against the university. Whittaker is Black and of Jamaican ancestry.
Whittaker had a history of conflicts with his colleagues and administrators dating back to at least 1989, according to court documents, on such topics as university governance, his teaching schedule and grading. He also was the subject of student discrimination complaints that led a Morgan State EEO officer to recommend discipline up to termination.
Subsequent incidents involved "a pattern of irregularity" in the final exam of some students and, as one faculty colleague put it, "use of "inflammatory and abusive language and epithets," according to court documents. In one letter, he referred to a colleague as "this White man" or "that White man." The EEO officer again recommended discipline.
He was terminated after an internal hearing and faculty review. His unsuccessful suit alleged Title VII employment discrimination, denial of equal protection and denial of due process, among other claims.
Former Police Sergeant Loses Discrimination Suit
A federal judge has rejected a Title VII suit by a former University of Chicago police sergeant who claims she was wrongfully fired in retaliation for previous discrimination complaints.
U.S. District Judge Harry Leinenweber ruled that Debra Poe failed to provide enough evidence to move the case to trial.
Poe, who is Black, worked at the university from 1987 until 2009. She filed a discrimination complaint with the EEOC and then a lawsuit in 2004, alleging harassment by another police sergeant. The parties settled in 2006.
In 2009, according to the decision, the university hired a new associate vice president for safety and security, Marlon Lynch. He created a new Department of Safety and Security, which included the police department, and assumed the title of chief.
At the time, Poe was a training sergeant.
Two female recruits complained to Lynch that Poe was harassing them and treating them unfairly because they were women.
He ordered an internal investigation that concluded Poe made inappropriate and discriminatory remarks and had acted unprofessionally, but did not sustain allegations that she harassed the two recruits.
She was fired for "repeatedly ma[king] disparaging comments and statements about her colleagues' abilities and competencies and her superiors' decision-making authority, causing friction and general malaise in the entire recruit training class." The termination notice also said her conduct "tarnished the image of this department, the authority of her superiors and her reputation as officer of this university."
In his decision, Leinenweber said Poe couldn't show a cause-and-effect relationship between her 2004 complaints and the allegedly retaliatory termination five years later.
"Lynch and the university were certainly within their rights to terminate Poe based on the record compiled in the investigation," he said, citing the "slew of complaints concerning her actions as a training officer."
He said that she had "disparaged her supervisors before a class of new recruits. It certainly was not her place to poison the views of new employees toward their superiors. She also abused and abased the recruits, causing some of them to want to drop out of the police force. Her training classes were not well run."
As for Poe's argument that the investigation was flawed and inconsistent with university policy, "this does not help her prove that she was treated less favorably than other similarly situated training officers," Leinenweber said.
Last, he said colleagues who allegedly also disparaged their superiors but weren't fired had made their comments privately, not in front of a recruit class, and none were accused of abusing recruits and improperly carrying out training.
Her lawyer, Andre Townsel of Schaumburg, Ill., said he did not know whether there would be an appeal.