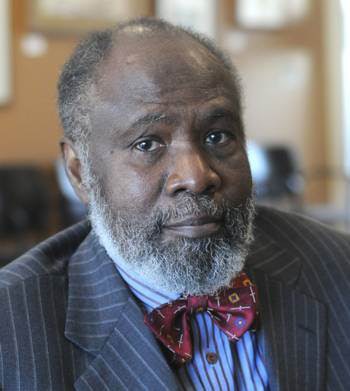 A former Howard University law school dean whose groundbreaking career in the legal profession and academia led to a national diversity award being named after him has died at age 80.
Henry Ramsey Jr. died March 14, a few days after suffering a stroke at his Berkeley, Calif., home.
A judge, educator, lawyer, politician and Korean War veteran, Ramsey capped a 30-year career in California by serving as Howard's law dean from 1990 to 1996. His son, Charles Ramsey, recalls his father's pride in taking the helm of the storied law school following a long line of larger-than-life leaders such as Charles Hamilton Houston and William Henry Hastie.
"For my father, this job was a dream come true," the younger Ramsey says.
Henry Ramsey Jr. was known nationally for inclusiveness and increasing the quality of law practice and studies. An annual American Bar Association (ABA) diversity award bearing his name honors law students, law schools or student organizations whose activities advance women, ethnic minorities, people with disabilities and gay, lesbian, bisexual and transgender legal professionals and students.
Born in Florence, S.C., Ramsey grew up in North Carolina where segregated facilities were the norm.
His first taste of California came when as a young man he enlisted in the military and was stationed in the early 1950s at what was then March Air Force Base in Riverside County, east of Los Angeles, Charles Ramsey says. Although the state eventually gained a reputation as a liberal bastion, the elder Ramsey encountered businesses such as Woolworth stores during that period that refused access or entry to African-Americans, which shaped his decision to become a lawyer.
"He wanted freedom and liberty for all, and he advocated for justice," Charles Ramsey says.
After serving in the Korean War, Henry Ramsey briefly attended Howard as an undergraduate before transferring to the University of California, Riverside, which had just begun offering classes in 1954. He became one of the first Blacks to graduate from the fledgling institution when he obtained his bachelor's degree in philosophy in 1960.
After earning his law degree from the University of California, Berkeley, three years later, Ramsey became a Contra Costa County prosecutor, helping to integrate that office and rising to deputy district attorney. In the late 1960s, Ramsey moved into private law practice and handled criminal and civil matters. His son says the latter included representation of Black police officers in Richmond, Calif., who successfully sued on the grounds of racial discrimination because they couldn't get promoted.
Henry Ramsey joined UC-Berkeley as a faculty member in 1971 and taught there until 1980. He juggled his professorial responsibilities alongside those of public office when he served as a Berkeley city council member from 1973 to 1977.
In 1981, then-Gov. Jerry Brown appointed Ramsey to Alameda County Superior Court judge, a position he held until 1990. This included a stint as presiding judge in the late 1980s.
U.S. Rep. Barbara Lee, D-Oakland, calls Ramsey "a renowned leader in the fight for social justice [who was] acutely aware of the role the judicial system plays. His dedication improved the lives of many and inspired all of those around him. I will miss his wise counsel and friendship."
Over the years, Ramsey was active in endeavors that focused on law students and their education. Perhaps most notably, he was chairman of an ABA group known as the Ramsey Commission, which in 1988 examined the accreditation process for law schools. Because of the commission's work, the ABA adopted numerous procedural changes the following year.
For a time, Ramsey also chaired the ABA's section on legal education and admissions to the bar and separately, the Law School Admission Council's bar passage study committee.
In 2000, Ramsey won the ABA's Robert J. Kutak award, which recognizes an individual who makes significant contributions toward the collaboration of academia, the bench and the bar.
A law academy at a Richmond, Calif., high school bears Ramsey's name. The academy, which aims to increase diversity in law-related professions, consists of students who are interested in the functions of government, the legal system and public service and advocacy. The students get more exposure to law careers by networking with teachers, alumni and community partners such as law firms.
Lee, the congresswoman, notes that Ramsey was a philanthropist particularly moved by causes benefiting young people. For example, Ramsey established a fund at UC-Riverside that offers needy undergraduates in good academic standing no-interest loans of up to $1,000 for 30 days in order to buy textbooks and other necessities.
Recounting the charitable gift to his alma mater, Ramsey once told UCR Magazine, "I couldn't have gotten my higher education without emergency help for little things."
In addition to son Charles, the elder Ramsey is survived by five other children, his wife, a sister and seven granddaughters.