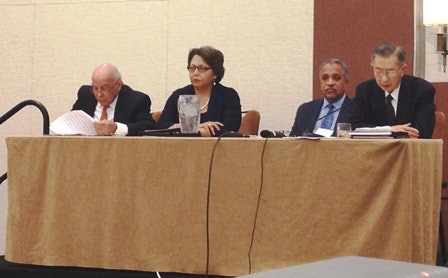 INDIANAPOLIS — Despite fiscal cutbacks and high presidential turnover, HBCUs continue to do more with less, according to three veteran HBCU leaders who appeared on a panel at the annual National Conference on Race and Ethnicity in American Higher Education.
"We are going to survive but that's not all we need to do," said Dr. Norman C. Francis, president of Xavier University in New Orleans and currently the longest serving college president in the United States. "We have to thrive."
Francis joined Dr. Beverly Wade Hogan, president of Tougaloo College and Dr. Sidney A. Ribeau, the former president of Howard University, in a lively two-hour discussion focused on challenges and solutions that beset the nation's 105 HBCUs.
"Do not fall into the trap of believing what is said about us," said Francis. "I'm past this business of trying to defend what we are."
Still, he acknowledged that the "cancer of enrollment management" has forced him to compete with larger institutions like Louisiana State University, who are "creaming off the brightest students we once served."
He said that at Xavier and elsewhere, many Black college students are dropping out at unprecedented numbers, not because of poor academic performance, but because they are unable to afford to pay rising tuition costs.
The cost of a college education, coupled with the recent decision by the Obama administration to rewrite the qualifying guidelines for the Parent Plus Loan, forced many HBCU students to drop out.
"That hit us like a firebomb," Francis said. "At wealthier schools, the rich pay for the poor. But the poor can't pay for the poor at our schools."
Ribeau, who served as president of Howard for five years but retired last December amid pressure from the board of trustees, said that despite the ongoing challenge of retaining students, the overall number of graduates from HBCUs each year is still impressive. While HBCUs comprise about 4 percent of U.S. universities, they confer 22 percent of all bachelor's degrees earned by African-Americans; 24 percent of all bachelor's degrees awarded to African-Americans in science and engineering; nearly 35 percent of all bachelor's degrees in astronomy, biology, chemistry, mathematics and physics; and 20 percent of all first professional degrees earned by African-Americans annually.
"HBCUs are doing a good job," said Ribeau, who maintained his tenured faculty position at Howard and said that he will return to the classroom in the near future. "They are rich, rich assets to community life."
With nearly 20 percent of White students now attending HBCUs and a growing international student body, HBCUs have to cater to a different demographic if they are to remain competitive, said Hogan.
"We've got to reach out to the non-traditional learners," she said.
Francis said that governance issues at HBCUs continue to be a major challenge.
"Presidents are not being allowed to run the school," he said, pointing to the recent spate of resignations and firings at HBCUs. "The board should not manage an institution. They should set policy and let the presidents run the institution. When people ask me how I've managed to be president for 46 years, I tell them, 'You hire people who are smarter than you and then you get out of the way and let them do their job.'"
For HBCUs that have experienced severe financial difficulties and who are on the verge of shutting down, Francis said that he would favor a federal government bailout to help these institutions get back on their feet, similar to the economic relief that President Obama and Congress authorized for General Motors and other corporations.
"If there has been a hiccup, bail us out and let us come back into business," he said, arguing that the return in investment would be well worth the money spent.
That logic makes sense to Ribeau. He said that whenever one college faces economic troubles, all HBCUs are forced to defend their existence.
"It's racism," he said.  "All of a sudden, HBCUs are not viable. You're going to say pejoratively, 'Do we need HBCUs?' What kind of sense does that make?"
Jamal Watson can be reached at jwatson1@diverseeducation.com. You can follow him on twitter @jamalericwatson.