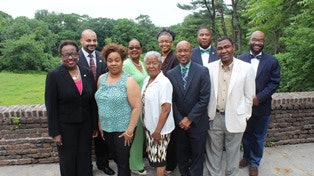 NEW BRUNSWICK, N.J. — For the third year in a row, education deans from historically Black colleges and universities across the nation gathered at Rutgers University to strategize on how best to strengthen teacher education programs at their respective institutions.
Amid deep financial cutbacks and mounting challenges over graduation and retention rates within higher education in general, the deans spent two full days last week engaged in discussions over how to improve academic standards, generate outside funding to support new programs and initiatives, and find ways—when necessary—to collaborate with each other.
Dubbed the HBCU Education Dean's Think Tank, the annual event is the brainchild of Dr. Fred A. Bonner II, who currently holds the endowed Samuel DeWitt Proctor Chair in Education at Rutgers.
Bonner said that, since its inception, the think tank has already proved successful in advancing the dialogue and "moving the needle" on the issue of how HBCUs can better prepare students to become career educators.
"We wanted to give the deans a safe space where they could come, talk and be themselves," said Bonner, a prominent scholar and an expert on Black male students who arrived at Rutgers in 2012 from Texas A&M University—College Station. "Whenever we talk about Black colleges, it's often from the perspective of others. We wanted to let the deans talk about their experience from an authentic space, from where they sit."
Bonner, who uses funds attached to his endowed chair to support the initiative, said that he also hopes to build a pipeline to recruit HBCU education students into graduate programs housed at the Rutgers University Graduate School of Education.
Education deans from Alcorn State University, Florida Agricultural and Mechanical University, Clafin University, Prairie View A&M University, Harris-Stowe State University, Central State University, Cheyney University of Pennsylvania, and Bowie State University were all in attendance.
"Our country is moving closer to becoming a minority-majority population," said Dr. Patricia Green-Powell, the interim dean of FAMU. "The work completed by the great minds of this think tank will assist HBCUs to take full advantage of this population shift."
The outcomes from the think tank will be circulated in a White Paper and disseminated to HBCU college presidents across the nation, said Dr. Chance W. Lewis, the Carol Grotnes Belk Distinguished Professor and Endowed Chair of Urban Education at the University of North Carolina at Charlotte and the think tank facilitator for the past three years.
Lewis said that the deans also will participate in a panel at the American Educational Research Association (AERA) annual conference in Chicago.
"I think this is a great opportunity for them to think things through and strategize," said Lewis, who graduated from an HBCU—Southern University in Baton Rouge—before he went on to earn a Ph.D. in Educational Leadership/Teacher Education from Colorado State University. "The goal is for them to have a network. Most of the deans don't get a chance to meet other deans and so they don't know each other. This think tank gives them the opportunity to hear about issues going on across campuses."
Still, Lewis warned that HBCUs—like predominantly White institutions—are not monolithic and that the challenges facing the schools are often unique.
"As a result of you being dean at this time, how should things be different for generations to come based on what you've envisioned or implemented?" he asked the participants in the opening session. "What specific aspects of effectively teaching Black children are your students getting from your program? And when you put your stamp of approval on them as a dean, how do you know they know?"
The questions forced a discussion on a myriad of issues ranging from faculty development to succession planning to recruiting students into the teacher education programs.
Dr. Terrence Hicks, who became dean of the Whitlowe R. Green College of Education at Prairie View last year, found the discussions to be refreshing.
"I feel honored that I'm here," said Hicks, who currently has about 1,500 students in the teacher education, counseling and educational leadership program in his school. "It's very important for me to learn what's going on at other universities so I can share it with my faculty."
Dr. Robert Z. Carr Jr., dean and associate professor for the School of Education and Psychology at Alcorn, agreed.
"This has been excellent professional development," he said, adding that the think tank gave him space to "reflect on current practices" with other practitioners who face similar challenges. "I think it's been a good meeting for the deans to come together."
Jamal Watson can be reached at jwatson1@diverseeducation.com. You can follow him on twitter @jamalericwatson