On Earth Day — Saturday, April 22 — droves of scientists are scheduled to march in Washington, D.C., with satellite marches scheduled around the world. Many organizers and possible attendees have clearly stated that there is nothing political or partisan about the march. (They are just scientists after all!) Rather, they are taking to the streets to challenge the current presidential regime's threat to scientific advancements, funding and academic freedom.
As one of my tweeps (Twitter peeps), @DrCBurton asked, "if science isn't political why the hell march?!?"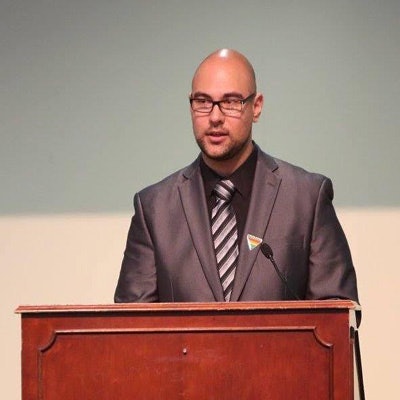 Figuring out whether the very act of a political march is, well, political is perhaps a secondary concern to the longstanding debate over whether science itself is political. If science supposedly stays out of politics, and vice versa, why go political now?
Another tweep of mine, Dr. Zuleyka Zevallos (@OtherSociology) pulled back an important layer to these debates. "Why are they marching? Oh 'Science is under attack.' Read: now White male scientists affected, let's march." Now the scientific profession is taking to political action — namely, against political interference — because the most privileged scientists (i.e., White men) are affected for the first time.
I should be clear that the concerns to be addressed by the upcoming March for Science are important, urgent, and noble. From the march's main website: "Recent policy changes have caused heightened worry among scientists, and the incredible and immediate outpouring of support has made clear that these concerns are also shared by hundreds of thousands of people around the world."
Scientists are unifying to emphasize the benefits of scientific advancement to all of society, of science education, of accessible scientific research, of public policy informed by science. The future of our nation, particularly in these tense and uncertain times, rests upon inclusive, accessible, and well-funded scientific research and teaching.
"The mischaracterization of science as a partisan issue," that same website continues, "which has given policymakers permission to reject overwhelming evidence, is a critical and urgent matter." We are neither politicians nor activists. Heck, we don't even bring our values, ideologies, identities, or subjective experiences into our labs. We are objective!
That is where many academics of marginalized backgrounds roll their eyes. Being able to see science as an apolitical enterprise is either the product of social privilege or naiveté (or both). To its core, science is an inherently political affair. The systemic exclusion and marginalization of women, people of color, queer and trans people, and working-class and poor people from the profession is a prime example of the political workings of science. Let me cite just a few examples.
Let's reflect on who gets to become a scientist in the first place. Of course, we must note active, intentional efforts to keep marginalized students out, namely interpersonal discrimination and sexual violence. But, we must also note other factors that contribute to what is known as a "leaky pipeline" — the systemic "leaking out," particularly of women and racial and ethnic minorities, at each stage in the scientific career pipeline. They are not equally encouraged to take the harder classes, to pursue lab assistantships and internships, to apply for graduate schools (especially the most prestigious programs), to apply for postdocs or present at conferences or any other opportunity that will advance their careers.
Even outside of withheld support, marginalized students and scholars face the burdens of lack of role models like themselves, of stereotype threat, which undermines our confidence and, ultimately, our performance. Later, women who have children will be undermined by the "motherhood penalty" — being viewed as less competent and committed than women without children and men without or even with children. I would be remiss to gloss over the rampant sexual harassment that occurs in the sciences and other academic disciplines, with serial predators getting a free pass from universities and academic societies.
Besides getting in the door in the first place, politics are at play in awarding grant funding and citations. Researchers have documented racist and sexist biases in both domains, with women scholars and scholars of color being penalized compared to White men scholars. Women scientists are also penalized in co-authorships, which further hinders their careers. You cannot dismiss these facts as anything other than the curse of not being a White man in a racist and sexist profession.
So, suffice to say, my fellow feminist, queer, trans, and Black and brown scholars in the sciences were well aware of the politics at play within science well before Trump. I cannot help but see the parallels with the recent Women's March, widely attended by White heterosexual cis women who were surprised by the harsh reality of oppression as indicated by this new regime. Women of color, queer and trans women, and poor and working-class women already knew what was up in Amerikkka. Trump has picked a fight with the scientific community, and suddenly White heterosexual cis men scientists know what censuring is, what fear is, what suppression is.
I'm sorry to say that your march is too little and too late. But, if you're going to march, be sure to bring a mirror. I implore you to take a hard look at the politics within your supposedly apolitical, objective science. These barriers to scientific advancement existed well before Trumpland.
I will close with a few items desperately needed for the March for Science agenda:
Bias in hiring, tenure, promotion, course evaluations, funding, citation rates, and other formal evaluations and opportunities for advancement.
Eliminate sexual violence in the classroom, lab, department, and at conferences.
Actively promote marginalized students and scholars in the sciences. Yes, that means diversity (numbers), and yes that means inclusion (climate); but, it also means real structural and cultural change.
Stand up for political and public interference in the work of your colleagues in the arts, humanities, and social sciences. Perhaps Trump's threat to the natural sciences is new, but, as a sociologist, I've long known threats to eliminate government funding.
Commit to reversing the adjunctification of academia and ending the exploitation of contingent faculty.
Actively resist new and ongoing threats to academic freedom, including the Right's new war against tenure. Even if you do not teach seemingly controversial subjects, your colleagues in the arts, humanities, and social sciences are all too familiar with political and public interference in their curricula and scholarship.
Make peace with the death of the myths of meritocracy and objectivity in academia. Y'all are scientists; if you are too grown to believe in Santa Claus, then you are certainly too grown to believe you leave your biases at home and that every scientist has a chance at succeeding.
Even though you just teach science (not sociology), take note that the majority of White, college-educated voters cast their votes for Trump — the very threat against which you are now marching. These were students you educated, trained and mentored and, who, in turn, basically voted against science, truth and critical thinking.
Next time you march, march for all academics — not just your damn selves.
Eric Anthony Grollman is a Black feminist queer non-binary intellectual activist and sociology professor at the University of Richmond. They are the editor of ConditionallyAccepted.com — an online platform for scholars on the margins of academia.