Renowned writer and poet Nikki Giovanni has retired on Sept. 1, after 35 years at Virginia Tech as a professor in the school's English department.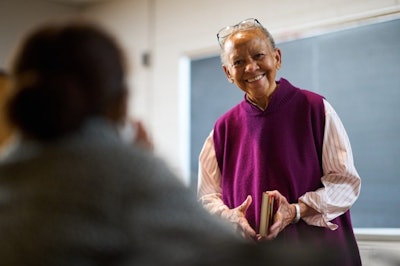 "In all fairness, I'm getting old," said Giovanni, 79.
Giovanni is lauded for her poetry, essays, and writings about social issues, race, and gender.
"Nikki Giovanni has been an important and deeply valued presence on our campus, giving voice to the spirit of Virginia Tech and helping us celebrate, mourn, learn, heal, and be better," said Virginia Tech President Dr. Timothy D. Sands. "Her words will continue to inspire us and touch readers around the world, and while we will miss her regular presence on campus, she will always be a beloved member of our university community."
Giovanni has 30 honorary degrees and seven NAACP Image Awards to her name, and is also a Grammy and National Book Award finalist.
Giovanni started at Virginia Tech in 1987 and became a University Distinguished Professor in 1999. She holds a bachelor's degree in history from Fisk University.
She has published 11 illustrated children's books. Her latest, A Library, recounts her weekly visits as a child to a segregated library near her home and will debut in the fall at the Library of Congress in D.C.
"I hope that I've done a good job," Giovanni said. "I hope that I've done at least my fair share."