Kevin Powell – poet, journalist, TV personality, and author – is Prairie View A&M University's (PVAMU) second writer-in-residence of the Toni Morrison Writing Program. He began Sept. 1.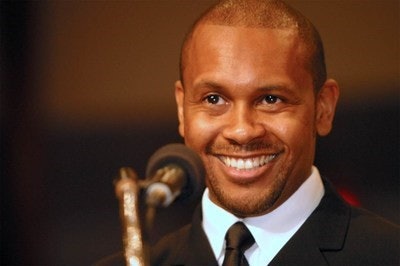 Powell's writings have appeared in multiple publications, including The New York Times, CNN.com, The Nation, NPR, ESPN, Essence, Esquire, Ebony, The Huffington Post, The Washington Post, Rolling Stone, Complex, British GQ, The Guardian, and ESPN.com.
"The Toni Morrison Writing Program's selection of Kevin Powell as writer-in-residence meets the objective: Powell studies; Powell thinks deeply. He takes a stance on a cornucopia of issues, including, but not limited to, social justice, interpersonal relationships, hip hop culture, and environmentalism, you name it," said PVAMU Provost Emerita Dr. Emma Joahanne Thomas-Smith. "He challenges a multi-generational audience and issues to them a call to action. Given today's socio-political climate, nothing could be more timely, especially for HBCU college students for whom the college years are an apprenticeship for thoughtful, meaningful, intentional participation in the change they wish to see."
Powell's upcoming books include The Kevin Powell Reader, a collection of writings and interviews, and a biography of Tupac Shakur.
His first public lecture is set for later this month.