Growing up in the Washington, D.C. area, Dr. Hanadi Hamadi, always wanted to have a career that was connected to health, but she wasn't really sure what that would be.
Initially, she thought she wanted to change people's lives and make "everything better" but later realized what she really wanted to do is make the health care system "more appropriate."
"I always wanted to teach and educate but I didn't see academia as the only avenue for it," says Hamadi. "You can teach in any avenue, but academia seemed to be the most feasible gateway to touch a lot of individuals and be able to communicate my message and translate some of the things that I find interesting and work on and study regarding the health care system."
Hamadi, 32, is now an associate professor in the department of Health Administration at the University of North Florida, where she teaches three courses a semester with an average class size of about 40 students.
Hamadi's research focuses on the diversity of health care as well as disparities in access to care.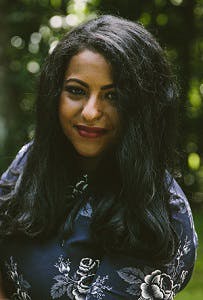 Dr. Hanadi Hamadi
"You see the more human side of the policy, then some of the reasons why individuals want to push a certain policy or not and you get to see a little bit of the political agendas that come into play and people's personalities and belief systems," Hamadi adds.
She has also made strides in advocating for student success, leading her department in a second-year report to the Commission of Accreditation of Healthcare Management Education (CAHME) for its Masters in Health Administration Program.
Hamadi designed an innovative way to integrate high competency levels into Canvas (a learning management system for students and instructors to access course resources) and to make one-on-one advising possible through the online platform.
In order to ensure that students are receiving high quality competencies in their advising, the department will "monitor these students as they progress, not only through one year to the next but really as they move ­fluidly from one course to the other" and will also give students timely up-to-date information on where they stand in each of the competencies (critical thinking, understanding the health care system and management approaches) as they move through their academic career, she says.
Dr. Mei Zhao, chair of the department of Health Administration, says Hamadi is a "very positive and intelligent person" who has taken a keen interest in her students.
"She motivates students to take an active interest in the subject and learning materials, while establishing a positive learning environment and a sense of academic trust," says Zhao. "She also cultivates students' critical thinking and problem-solving skills so that they become critically-refl­ective practitioners and effective decision-makers."
Dr. Janice "Jan" C. Probst, Distinguished Professor Emerita in the department of Health Services Policy and Management at the University of South Carolina who served as Hamadi's dissertation adviser, calls the young scholar "a ball of fire."
Currently, Hamadi's favorite class to teach is "Introduction to Health Policy." In that course, she helps students see the "more human side of the policy" and "some of the reasons why individuals want to push a certain policy or not."
Outside of teaching and conducting research, Hamadi is involved in academic, community, international and other forms of civic engagement, such as serving as a volunteer at a women's domestic violence shelter.
She says that her community-based work is directly connected to her ongoing scholarship.
"I can do things in the classroom and I can do things the way that I conduct my research or assess the health care system, but it doesn't really change anything unless I'm in the community making that change, asking, 'How can I help you translate your knowledge into something patients can access, beneficiaries can bene t from and policy makers can use to make meaningful change?'"
Monica Levitan can be reached at mlevitan@diverseeducation.com. You can follow her on Twitter @monlevy_.
This article appeared in the January 24, 2018 edition of Diverse.
This is one in a series of profiles about this year's 2019 Emerging Scholars. Read about all of them here.