Delaware State University has been awarded $217,000 to support two mental health initiatives.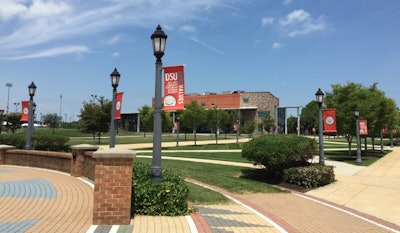 The grant – from the U.S. Department of Education's (ED) Project School Emergency Response to Violence (Project SERV) – will aid initiatives to establish a mental health first aid education program and a campus mobile crisis response team.
The mental health first aid education program will seek to provide students, faculty, and staff training and increased resources to help those affected by trauma and foster better perspectives on mental health on campus.
The crisis response team will have school employees skilled in social work and counseling assist university police in managing traumatic events and providing a presence at campus events and academic environment settings.
Project SERV's short-term funding was awarded to four historically Black colleges and universities (HBCUs) disrupted by bomb threats last year: Delaware State University, Texas Southern University, Claflin University, and Howard University.
"The bomb threats last year that targeted several historically Black colleges and universities traumatized their campus communities, disrupted learning, and drained resources by prompting costly campus lockdowns, class cancellations, and law enforcement activities," said U.S. Education Secretary Dr. Miguel Cardona. "The Biden-Harris administration will always stand by HBCUs and unequivocally condemn racist efforts to terrorize Black students and educators and deprive them of their right to safe, welcoming, and nurturing environments for teaching and learning. The Project SERV grants announced today will help four HBCUs directly impacted by these bomb threats to better serve students, faculty, and staff by increasing access to mental health and wellness services and improving other vital supports."