In recent years, applicants and matriculants to U.S. medical schools have increasingly come from households with higher incomes, according to a Yale-led study.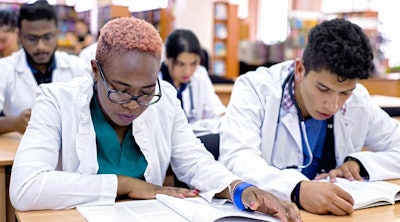 The findings of the study – published May 11 in the Journal of the American Medical Association (JAMA) – show disparities in access to medical education and could have negative impacts on patient care, according to researchers.
Researchers analyzed childhood household income — or the level of family income during the majority of an individual's life up to age 18 — for all U.S. medical school applicants and matriculants between 2014 and 2019. They found that the socioeconomic diversity of medical school applicants and matriculants has decreased over time.
"We found that over that time period, the percentage of applicants to medical school who came from households with an annual income of $200,000 or more increased, while students who came from families with income less than $75,000 decreased by the same rate," said Mytien Nguyen, lead study author and M.D.-Ph.D. student at Yale School of Medicine.
And when comparing acceptance rates between families that earned less than $50,000 per year and those getting more than $200,000, researchers found that those in that lowest income level were half as likely to be accepted to medical school as those in the highest.
"Our findings suggest that money has a strong influence on students' ability to apply to and ultimately attend medical school, and it raises the question as to whether we really have a meritocracy or does privilege buy entry into the medical profession?" said senior author Dr. Dowin Boatright, vice chair of research in the Department of Emergency Medicine at New York University Grossman School of Medicine.
Researchers cited medical education debt as a potential contributing factor, and suggested debt reform and more holistic review of medical school applications.
"It's important now for medical schools to reflect on whether their application review actually incorporates measures of a person's socioeconomic status and whether they see that as something that can positively influence their cohorts of trainees and ultimately benefit patients," Boatright said.