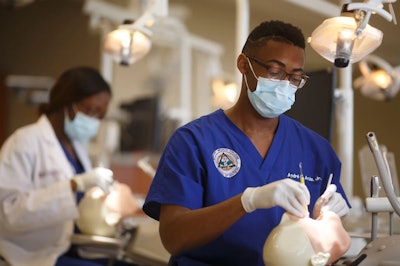 Meharry Medical College's School of Dentistry will be launching a new innovation center for dental technology and education, slated to open in the next year.
The center – partially funded by the Center for Research and Education Technology's 2023 Innovation Center Award – will allow Meharry to establish five new examination rooms, each consisting of equipment and materials such as computerized crowns and bridges, intraoral digital scanners, laser equipment, salivary diagnostics, and oral care probiotics.
There are only about 8,000 Black dentists in the U.S. — 27% graduated from Meharry — who continued on to work in impoverished communities where the need for oral health services is significant. As such, minority and underserved populations disproportionately suffer from oral diseases due to inadequate dental services access and the lack of workforce diversity.
"Oral health is critical to the overall health and well-being of patients, yet significant oral health disparities persist in our country due to a lack of access to qualified and well-trained dental professionals," said Dr. James E.K. Hildreth, Meharry's president. "At Meharry, we pride ourselves in training individuals who will routinely care for our low-income and uninsured communities throughout the world. The innovation center allows us to deepen our dental student's knowledge and train more dentists who will serve minority populations and provide them with the dental care they need and deserve."