Dr. Chemen Neal will become executive associate dean and chief diversity officer (CDO) for the Indiana University's (IU) School of Medicine, effective Feb. 1, WFYI reported.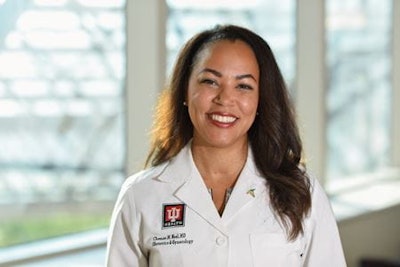 Neal is currently an associate clinical professor of obstetrics and gynecology; assistant dean for student success and advocacy; and chair and co-chair of the school's Diversity Council. She was previously director of holistic student success and advocacy and director of wellness for the OB-GYN department.
One challenge with her new role will be coordinating efforts across multiple campuses, Neal said.
"We have nine campuses," Neal said. "And so, aligning all the existing efforts that we have, and kind of getting everyone on the same page, I think is going to be the most challenging part of this position."
Neal spoke about the importance of diversity in medicine for the sake of better health outcomes.
"I think for a medical institution, it is easy for us to say and for us to get behind diversity efforts, because we know from evidence that communities that are marginalized in that includes, you know, our urban communities, or rural communities do better when they have people who take care of them with a similar lived experience," Neal said. "And so we need providers, we need to diversify our school, we need to help people take care of all of their patients, regardless of where they're from, to improve the outcome of their care."
Neal holds an M.D. from The University of Chicago Pritzker School of Medicine and a B.S. in biology from San Diego State University.