Defining rural colleges and universities nationwide has long been challenging, experts say. But without a comprehensive definition, these institutions have often been overlooked in research as well as state and federal funding. However, experts point out that these colleges educate and employ millions of Americans, many of whom are people of color and low-income communities.
"A lot of think tanks and foundations interested in rural communities, as well as those in higher education who want to do research, tend to get stuck at the same roadblock: what counts as rural?" said Dr. Alisa Hicklin Fryar, a professor of political science at the University of Oklahoma and director of data at a research collaborative called the Alliance for Research on Regional Colleges (ARRC).
To unstick that roadblock, Fryar's ARRC team recently launched an interactive map of 1,087 colleges and universities that serve rural communities but are not necessarily in rural areas. This national project received funding from Ascendium Education Group, a nonprofit education philanthropy and student loan guarantor organization.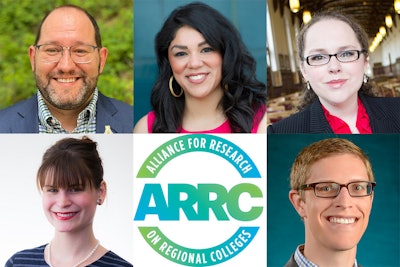 Dr. Andrew Koricich, executive director of ARRC and associate professor of higher education at Appalachian State University, explained why the map looked at rural-serving institutions (RSIs) rather than rural-located institutions.
"Prior to our work, you could identify institutions located in a rural area, but the institutions under that category could change depending on what definition of rural you use," said Koricich. "Not only is the rural-location category really variable, but it also ignores institutions that are doing rural service but not in a rural place."
For example, Koricich said many land-grant universities have had an "urbanizing effect" on their communities as a lot of these institutions over time have grown very large. "But nobody would argue that the work they do, such as agriculture programs, isn't important to rural communities," he added.
Some colleges on a suburb's outer edge can also fall into that rural-serving category. But many of their students can hail from surrounding rural communities. Koricich also noted their project underscored how RSIs, counter to some stereotypes that rural communities mean mostly white populations, are in fact demographically diverse.
About one third of historically Black colleges and universities (HBCUs) are RSIs. Around 93% of tribal colleges as well as 94% of high-Native-enrolling institutions that are not designated tribal colleges are also RSIs.
"These are not institutions that can be painted with a broad brush," added Koricich. "This is really a story that requires nuance."
Ascendium Education Group supported a similar project from researchers at the University of Wisconsin-Madison that also highlighted such nuances in rural higher education. That report, which came out in December 2021, mapped colleges and universities across the country that are in rural locations.
"When thinking about the location of higher education institutions, it's important to consider that most students stay close to home to go to college," said Dr. Nicholas Hillman, a professor in the School of Education at the University of Wisconsin-Madison and one of the report's authors. "If we start from that vantage point, the next question is, 'What college is nearby?' That's the whole motivation of this project."
Like Koricich, Hillman said that these projects have upended some assumptions around rural communities and colleges.
"I sometimes hear how rural areas are dying, but that's not really true across the board," he said. "There is a lot of variation within what we call 'rural.' Some communities are thriving. It's not just doom-and-gloom."
He and Koricich both noted as well that their funder, Ascendium, considered the two projects to be "salt and pepper shakers," or parallel ways of unpacking the same issue.
Dr. Erica Lee Orians, executive director of the Michigan Center for Student Success at the Michigan Community College Association, agreed.
"The federal government offers a lot of definitions of rural institutions, but in many ways, they've been lumped together as not-urban," said Orians. "So, both of these reports do a good job of beginning the conversation of what we mean by rural higher education."
At the Michigan Center for Student Success, Orians works with 28 community colleges in the state. She said these projects can help rural institutions build networks to better support the particular needs of rural students.
Early in the pandemic, for instance, Orians recalled some of the rural colleges she worked with struggled with broadband access. A few expanded their wifi to their campus parking lot. That way students could sit in their cars to go to class.
"I come from a rural community myself, and I've had an interest in this topic for a long time," said Orians. "I'm grateful that it's getting more attention now, especially from a diversity and equity perspective. This is a great opportunity for people to learn more."
Rebecca Kelliher can be reached at [email protected]