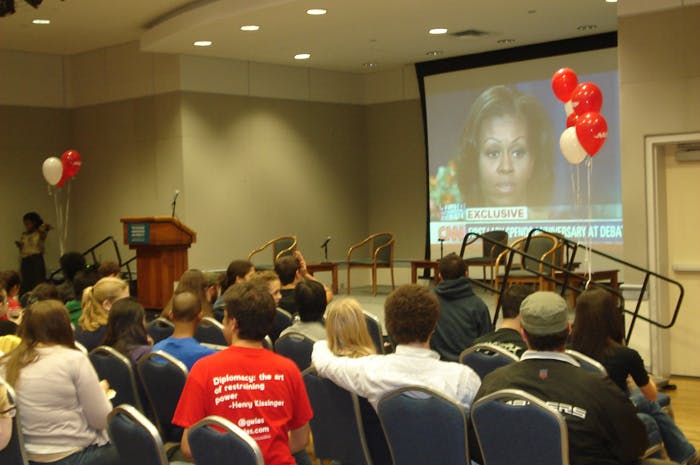 Washington —Malissa Wilkins and Sinead Casey are both 21-year-old seniors at George Washington University who enjoyed Wednesday night's presidential debate and for the first time next month will help elect a president.
That's where the similarities end.
One reason Wilkins supports re-electing President Obama is the federal government taking charge in hiring teachers.
Casey, chairwoman of the school's College Republicans, will vote for former Massachusetts governor Mitt Romney because he will preserve military spending and not cut it like Obama, who she mockingly called "the professor."
Wilkins and Casey joined more than 200 people at George Washington's Marvin Center to watch the first of three debates held between Obama and Romney.
Students were civil while watching a big-screen television listening to both candidates at the University of Denver discussing topics such as the economy, job creation and taxes.
Some of the College Republicans, who held posters that read "America's Comeback Team," became boisterous when the question was asked on the federal government's role in public education.
Romney said federal money should go to parents and allow them to choose where a child goes to school. In addition, he said education is mainly a role for the state and local government.
Obama supporters clapped when he proclaimed successes last year repealing the "don't ask, don't tell policy" against gay service members in the military, killing former Al-Qaeda leader Osama Bin Laden and retaining entitlement programs.
Most agreed the debate offered no clear-cut winner or loser, but gave distinct differences in the information presented.
Ninio Fetalvo, a 19-year-old sophomore, said Romney presented more specifics such as eliminating the Affordable Care Act known as "Obamacare."
"President Obama said he had these plans, but where were they the last four years?" he said.
In regard to higher education, the candidates present distinct plans.
Obama has said by 2020, America would have the most college graduates in the world. The president's website, barackobama.com, claims his "Income Based Repayment" program saved more than $60 billion by placing a 10 percent cap on students who borrowed federal money. Approval in paying a low monthly payment is based on income, family size and state residency.
Romney proposes to reduce federal government spending and said "the cost of a college education has risen by 25 percent and student debt has reached a record $1 trillion," according to his website, mittromney.com. His plan to improve higher education is to "strengthen and simplify the financial aid system, welcome private sector participation instead of pushing it away and replace burdensome regulation with innovation and competition."
As for Wednesday's debate, Dionna Lewis wanted to hear more specifics about proposals to decrease student loan debt. After attending GW and two other schools to pursue a career as a federal attorney, Lewis's debt exceeds $200,000.
Lewis, 26, supports Obama and said Romney presented inconsistencies in the debate.
"I just wasn't feeling Romney. He gave a lot of power to the states, but I don't think it is realistic," she said. "History said federal government fought issues to combat busing, for example."
Students at HBCUs also held formal presidential watch parties on campus, but with a more Democratic viewpoint.
Patrick Osborne, a 21-year-old senior at Alabama State University, said a previous statement from Romney on students borrowing money from their parents to pay for college "is a slap in the face."
"Items like Pell Grants help students pay for a college education," said Osborne, who admitted most of the estimated 80 people at the event were Obama supporters. "An education is an investment that provides a successful economy and a better America."
Vice President Joe Biden and Romney's running mate, Congressman Paul Ryan, will debate next Thursday at Centre College in Danville, Ky.
The presidential candidates will debate again Oct. 16 and Oct. 22. All the debates are held on college campuses and scheduled from 9-10:30 p.m. Eastern time.