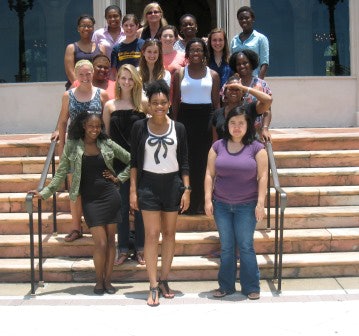 Women have made major advancements in post-secondary education the past few years, yet there are disciplines where they are still severely underrepresented. According to the National Center for Education, in 2010, although women represented about 52 percent of all Ph.D.s, they earned fewer than 30 percent of math and statistics Ph.D.s. Average drop-out rates for all graduate students are between 40 and 50 percent, and women are even more likely to drop out than men.
To address these discouraging issues, Sylvia Bozeman of Spelman College and Rhonda Hughes of Bryn Mawr College teamed up in 1998 to launch the Enhancing Diversity in Graduate Education program, which aims to help women flourish in and complete their graduate math programs.
Each year, EDGE, a four-week-long summer session, accepts a handful of female students who have completed undergraduate courses in analysis and abstract algebra and have been accepted to graduate programs in math. EDGE partners with eight schools, including Bryn Mawr College, Florida A&M University, Morehouse College, New College of Florida, North Carolina A&T State University, North Carolina State, Pomona College and Spelman College.
According to Dr. Ami Radunskaya, co-director of EDGE and professor of mathematics at Pomona College, one of the biggest problems for women in mathematics graduate programs is an absence of support. She says that, often when women enter this field of study, "there's a lack of role models for women in the research university faculty, which is where they have Ph.D. programs … so you feel immediately that you don't belong."
Women also experience familial pressures and expectations that men simply do not face. A study conducted by Cornell University states that the high number of women's attrition in graduate programs "appears to have less to do with discrimination or ability than with fertility decisions and lifestyle choices." In short, women are biologically required to choose between family and career in a way that men are not, and many choose a family over finishing their Ph.D.s.
During their time in EDGE, students take courses in analysis and linear algebra, mini-courses in pure and applied mathematics and complete problem-solving sessions with faculty. Instructors include four math professors, the program's two national directors, its co-founder and two graduate mentors. Jessica De Silva, a participant in EDGE's class of 2013, endures long days and nights studying and collaborating with her classmates.
"We're being pushed beyond our limits and actually beyond what really graduate school is going to have for us," she says. "So, our mentality here is if we can make it through this program, then we can make it through our graduate program."
When they're not feverishly working on their class assignments, EDGE participants from previous years and other successful women with Ph.D.s in mathematics hold seminars and answer questions about what the students can expect in school and in the workforce. Showing the participants what they might experience is an important step toward fully preparing women for their graduate programs and hopefully making them less likely to drop out. After the program ends, EDGE provides mentoring and support, as well as funding for students to take sabbaticals and give research talks.
In its 15-year existence, EDGE has had moderate success in improving the graduation rates of its participants. Out of 199 total participants since 1998, 54 have earned their Ph.D.s, more than 70 students are still in school, and more than 100 have already received master's degrees. In the first five years, 8 percent dropped out before receiving their master's degree.
Despite the challenges of getting women through their graduate programs and into high-profile careers in mathematics, and despite the historical underrepresentation and cultural barriers, EDGE shines when it comes to helping minority women succeed. "If you look at the numbers of African-American women Ph.D.s in math, they're teeny-tiny," says Radunskaya. (In 2010, there were a total of 10 Black women who earned mathematics Ph.D.s.)
"In the past seven years or so, EDGE has contributed 25 to 40 percent of those African-American women," she adds.
Though women have made advancements in mathematics, there's still a long way to go. In the future, Radunskaya hopes to have several programs around the country to make sure that they reach as many women as possible.