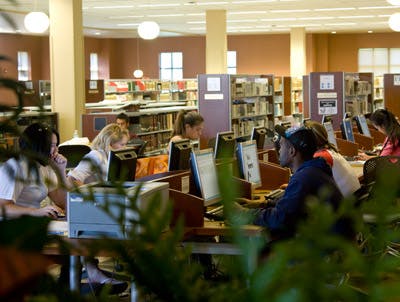 Regina Jackson has learned that bumps and bruises can cause pain to her wallet.
The University of North Georgia senior jammed her foot while working a part-time job off campus. A $500 upfront medical bill added financial insult to her injury.
"It's been quite an adjustment," said Jackson, 27, who was removed from her parents' health insurance last year. "The doctor used to be the first option when I had insurance; now it's not. If I get sick or I'm not feeling well, it's pay out of pocket."
Such out-of-pocket expenses are putting health care out of reach for an estimated 19 million uninsured young adults (aged 19-29) such as Jackson. With premiums as high as $800 to $1000 a month, private and self-pay insurance coverage has often eluded this segment of the market.
A growing number of institutions such as Duke University and Auburn University provide student health insurance plans. Health insurers such as United Healthcare also offer student health plans that can continue after college days are gone.
In 2010, the Affordable Care Act required that health plans cover young adults until age 26 on their parents' plan. An estimated 15 million young adults enrolled on their parents' plan, according to the Commonwealth Fund. Now, beginning October 1, the ACA will expand coverage options for uninsured Americans. Consumers can compare health plans through their state's Health Insurance Marketplace and find out whether they are eligible for tax credits/subsidies to defray the cost of premiums. Individuals with an income of less than four times the official poverty level, or $45,960 for individuals and families of four with an income less than $94,200 are eligible.
"The Affordable Care Act will increase competition and transparency for those purchasing coverage through the individual and small group market, leading to higher quality, more affordable products," said Fabien Levy, spokesperson with Department of Health and Human Services.
Accessible online at healthcare.gov, by phone or in person, the new health care marketplace is designed to allow individuals and small businesses to search for and enroll in quality, affordable health plans that meet their needs. The exchanges are expected to increase access to affordable health care for millions of young adults who — because of the tight job market — often struggle to land a job with health benefits before age 26.
Whether uninsured young adults will take advantage of the increased access to health care remains uncertain. Only 50 percent of young adults sign up for health insurance even when offered by their employers, according to a study by benefits administrator ADP. And only a third of young adults in a recent Reuters poll said they were likely to buy insurance through their state's exchange.
"The young and healthy have no fear of mortality," said Peter Hayes, principal of Health Solutions, a health care strategy and consulting firm in Maine. "They just do not think they need health insurance because they are healthy and will pay for an occasional cold and flu visit with cash at the local retail clinic."
This "invincible" mindset leads benefits and health policy professionals such as Hayes to predict that young adults will opt to pay the penalty of about $95 the first year instead of enrolling in health insurance.
The Young Invincibles, an advocacy group, believes otherwise. The four-year-old nonprofit strives to arm young adults with information to make sound decisions about their health care options. The group has embarked upon a nationwide campaign to educate young people about the changing health insurance options. Its awareness and education efforts across college campuses extend to faculty and administration.
"We've seen that students want coverage, but they think they can't afford it," said Christina Postolowski, senior policy analyst of Young Invincibles. "Awareness is the biggest hurdle."
Studies suggest a challenging road ahead. Only 27 per­cent of young adults were aware of the market­places in The Commonwealth Fund Health Insurance Tracking Survey. Lack of awareness was lowest among those who were uninsured during the year and those with low to moderate incomes, the survey found.
To change these statistics, Young Invincibles provides a website with FAQs to educate consumers and advocates. It also offers a toolkit and mobile app that helps consumers learn about their options and find local health care services. YI works in tandem with HHS to train trainers and volunteers and also partners with national organizations and businesses who have volunteered to help Americans learn about the health care coverage available in the marketplace. The group will also hold outreach and enrollment events this fall.
"In a perfect world, every college and university would have a presentation on health insurance for their students to include literacy, what's a premium, what's a deductible and walk students through the different health plans," said Postolowski, acknowledging that college budget cuts limit staff resources needed to conduct such training. Still, she contends that working with organizations such as YI will prove valuable to the institutions and their students.
"It can help their students succeed," she said.