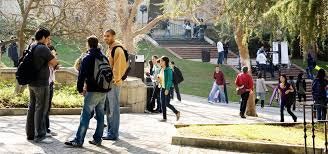 Earning a college education is something that is a double-edged sword for the nation's youngest adults and for some of their parents too. Society dictates that some form of secondary education is an absolute must for lifetime success, but the cost associated with earning those credentials is debilitating. The Washington Post reports that the average college student will graduate with $25,000 in debt. With more than $1 trillion in outstanding loans, student debt outweighs credit card debt and is exempt from bankruptcy protection.
Some may say this is just the cost of doing business and that a few years (or decades) of repaying student loans is worth the cost in the long run. If a person truly values his future, repaying loans and interest rates are just part of proving his dedication.
But what if that mentality were flipped? What if there was no cost to obtain a college education and it was viewed as a basic right, much like the K-12 public school system? It seems that the knee-jerk response is to claim that the nation can't afford it. The trillion-dollar college education industry, coupled with the lending companies that "help" finance these endeavors, would feasibly go under if students did not have to find, earn or borrow the tens of thousands of dollars necessary to prove they care about their career.
Perhaps that's true. But how would the economy as a whole look if college student debt disappeared? Instead of taking the first, low-paying job that came along in order to desperately find the cash to start repaying loans, maybe students would hold out for the perfect job where their talents and education could be best utilized. Instead of the nearly 22 million young adults living at home with their parents, maybe those kids would invest in their own housing and start contributing to that industry faster. Parents who save every penny in order to pay for college would feasibly have more cash to put back into other aspects of the economy, strengthening whatever industries they touched.
When the facts are really examined, it seems that the only ones truly benefitting from the current higher education model are the institutions themselves and the companies that support lending. In the second quarter of this year, private lender Sallie Mae reported $543 million in net income. In 2013 alone, Sallie Mae has spent over $1.2 million lobbying against legislation meant to relieve some of the college debt strain. Much like the skyrocketing healthcare industry costs over the past two decades, colleges and lenders have been left to their own devices with improper regulations.
The result is the "soaring college costs" we hear so much about today. According to the College Board in 1992 one year of college at a public four-year institution cost around $7,500 in today's dollars. Now that cost is $10,000 higher. Private nonprofits cost around $17,000 in 1992; today the cost is nearly $24,000. The cost of college is a runaway train at this point. College costs have risen faster than the inflation rate for decades.
While an economy hindrance, the high price tag of a college education has very little resistance when observing the nation's population as a whole. Colleges and lending companies have, for the most part, gotten "a pass" because the pursuit of knowledge is deemed a worthy one where price should never be considered an issue. Under the guise of a better-educated workforce, colleges and lenders have been able to get away with more than any other industry providing a basic, American service. What would the reaction be if utility costs rose that quickly, or the price of a gallon of milk?
For a college education to really have the intended impact on the individual and society as a whole, it needs to be affordable — or completely free. It is a basic American right.