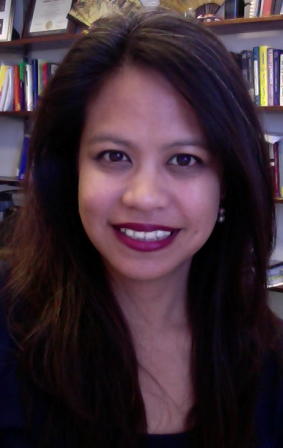 There was no indication in Dr. Anna Dina Joaquin's high school report card that she would one day become a university professor, but the Filipino American's family's strong immigrant values — hard work and education — along with encouragement from a key mentor, eventually propelled her to go from nearly the bottom of her graduating class to earning a doctorate in linguistics.
It also helped that both of Joaquin's parents, who brought her family to the United States when she was 8 years old, earned advanced degrees.
"They have an incredible work ethic and know the value of an education," says Joaquin. "They always instilled that in me."
After graduating from community college, Joaquin moved on to the University of California, Berkeley to study social welfare. "Social welfare is helping others help themselves," she says, pointing to a mission that has driven her career.
It was at UC Berkeley that Joaquin got the chance to teach English in Central Asia, giving her insight into language acquisition, now one of her main areas of research interest as a professor at California State University, Northridge. When she returned home to Los Angeles, Joaquin found a job teaching English in the city of Alhambra, located west of L.A.
"One thing that I really enjoy about teaching English is that it really is a way for others to help themselves," she says.
Further delving into language studies, Joaquin enrolled in a linguistics master's program at UCLA, where she undertook research with Dr. John Schumann.
"He always challenged me to not just be a student," Joaquin says. "He challenged me to be a scholar. He challenged me not to be afraid to be creative.
"In very practical ways, he taught me how to be an academic," Joaquin adds. "All these people [Schumann, her parents] have really contributed to helping me become the person I am today."
Uzbekistan, Kazakhstan, East Timor and Myanmar are a few other places where Joaquin has taught English, adding to her wealth of experience in this area of study.
Along with language acquisition, language use and pedagogies are two other areas of study that Joaquin has worked in since her time at UCLA.
"She is a complete applied linguist in that she is equally adept as a teacher passing on knowledge and as a researcher producing knowledge," says Schumann, who co-authored The Interactional Instinct: The Evolution and Acquisition of Language and co-edited Exploring the Interactional Instinct with Joaquin. Joaquin is also the author of Enculturation Processes in Primary Language Acquisition.
"More than just publishing work, I hope to be a good example for students," says Joaquin, who encourages her students to pursue their passions, not just look at what is marketable.
"Dr. Joaquin is a true teacher-scholar," says Dr. Evelyn McClave, chair of Joaquin's department. "It is extremely rare for faculty to research and publish in three distinct areas [first language acquisition, second language acquisition and how dementia affects language] and even rarer for that scholar to have an excellent reputation as a teacher at a university with a four-four teaching load [four classes in the fall semester and four in the spring]."
Joaquin also speaks at conferences about her work in frontotemporal dementia.
Providing people with the tools and language skills to succeed in life is a driving force for Joaquin, who quotes missionary Jim Elliot: "'He is no fool who gives what he cannot keep to gain that which he cannot lose.' It reminds me of what is important."