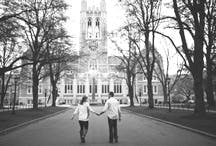 While leading prospective students around Miami University in Oxford, Ohio, campus tour guides talk about the college's active Greek scene, high graduation rates and athletic successes.
They also tout the Miami Mergers ― a nickname for alumni who marry fellow Miami graduates.
"It's absolutely a big deal," said Miami spokesman Ray Mock. "We have nearly 14,000 couples."
The university, which has an undergraduate enrollment of about 15,500, has been keeping tabs on alums who marry since the early '70s. The alumni office sends them Valentine's Day cards every year and highlights the matches in university publications. In 2009, Miami organized a vow-renewal ceremony for 1,087 couples that set a Guinness World Record. In addition to inviting Miami Mergers, the university included their families and Miami graduates who were not married to other alums.
"It's tied to wanting our graduates to maintain a relationship with the university," Mock said. "One of the biggest challenges for alumni relations is trying to find more ways to engage alumni in the life of an institution."
Many colleges around the country collect photos, invite couples to share their stories online and organize events for them. Fostering those connections makes a lot of sense, said Don Fellows, CEO of Marts & Lundy, a fundraising consulting firm in New Jersey: Involved alumni will offer networking help to students, volunteer their time and, hopefully, donate money.
"If you have both partners in a relationship that graduated from the same university, you have a better chance of getting gifts and getting bigger gifts over time," Fellows said.
Universities are looking to donors to help fill the gaps created by cuts in education funding, added Gene Tempel, founding dean of the Indiana University Lilly Family School of Philanthropy, in Indianapolis. Couples who met at school are good candidates, he said.
Alumni do more for their alma mater if they feel emotionally connected, "and certainly the occasion of meeting your spouse is one of those connections," he said.
American University, in Washington, D.C., introduced its first event for alumni couples four years ago. The number of graduates who wanted to talk about their university courtships prompted the decision, said Raina Lenney, assistant vice president of alumni relations.
"In every single place we go, we hear, 'I met my husband. I met my wife,'" she said. "We thought this was a way to strike a chord of nostalgia."
After two years of AU Sweethearts events, the university has moved the effort online, where the stories and photos attract a lot of attention, Lenney said.
"They appreciate that we're interested," she said.
"We want to foster close-knit relationships where alumni give generously of their time and experience and help the current generation [of students]," she said.
In response to requests from graduates, including one who wanted to make a donation in honor of his late wife, Albright College in Reading, Penn., brought back the tradition of celebrating couples about four years ago, said Megan McGrath Bermudez, director of alumni relations. She has planned several campus events, including a gathering where couples could renew their vows. The "Albrightians in Love" online gallery includes eight decades' worth of photos.
Bermudez considers the couples some of the college's most engaged alumni.
Steve and Summer Sieller agree that their campus courtship has given them a great deal of affection for Albright. The couple, who live in Douglassville, Penn., shared their first kiss there and met some of their closest friends there.
"Both of us view it as how we got to be who we are today and where we are today," said Steve Sieller, who graduated in 2006.
Meeting at Miami University "was huge for us," said Michelle Fleming of Upper Arlington, Ohio. She and her husband, Mark Fleming, Jr., started dating as freshmen. Two years later, they kissed under the Upham Arch. According to university legend, couples who share a kiss there will later marry.
The Flemings love being part of the Miami Merger tradition. Michelle Fleming contacted the university to let them know about their 2007 wedding.
"The valentine is always something really special and sweet. We appreciate the recognition," she said. "We found love there. It makes it nostalgic."