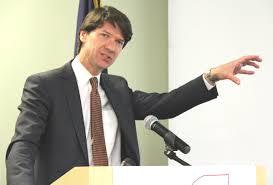 ALBANY, N.Y. — New York officials said Monday that 13 more businesses have agreed to expand to or locate in tax-free zones at colleges and universities across the state while committing to bring new jobs.
The 13 expect to invest $11.4 million and create 268 jobs, according to Empire State Development. They will locate in tax-free areas sponsored by Canisius College in Buffalo, Keuka College in the Finger Lakes, the State University at Stony Brook on Long Island, SUNY Downstate Medical Center in Brooklyn, SUNY Ulster in the mid-Hudson Valley and the University at Buffalo.
The announcement follows commitments by 43 other businesses to create 2,100 jobs on or near campuses in Buffalo, Ithaca, Brooklyn, Binghamton, Rochester, Albany and Stony Brook in the incentive program begun in 2013.
In return for generating jobs, they can operate 10 years without state income, business, corporate and sales taxes; property taxes; and franchise fees.
"The newest businesses to locate at tax-free areas on SUNY campuses in the New York City, Long Island, Finger Lakes, and Buffalo regions will have access to world-class resources, industry experts and advanced research facilities," said Kenneth Adams, president of the state economic development agency. "And in return they will offer SUNY students the opportunity to cultivate real-world business experience."
The businesses are FlightPartner, GradFly Inc., ID Federator LLC, Illuminating Diagnostics LLC, Mid-Island Aggregates/Distribution LLC, NomoCan Pharmaceuticals LLC, Nuenz Inc., ProGen Life Sciences, Sensored Life LLC, Simply Natural Clothing, Sustainable Waste Power Systems Inc., UTS LLC and Zuznow USA Inc.
Illuminating Diagnostics, a biotechnology startup, plans to produce rapid diagnostic tests for hospital-acquired infections like MRSA and locate in the Biosciences Incubator of the University at Buffalo. It's expected to create 32 net new jobs while investing $1.2 million, according to state officials.
So far, 61 schools have been approved for the program called Start-Up NY, establishing more than 345 tax-free zones. Businesses apply through the sponsoring school.