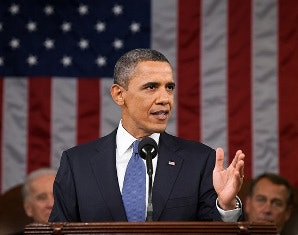 With President Obama proposing tax increases to fund his new plan guaranteeing two years of tuition-free community college study for responsible U.S. students, tax-cutting congressional Republicans may find it easy to dismiss the ambitious proposal and the ideas behind it.
Nonetheless, the plan known as America's College Promise offers a vision around which states, community colleges, foundations, research organizations, corporations, activists and citizens can mobilize to bring long-term innovation to the community college sector. While it may take years before something like the America's College Promise to see enactment by the federal government, there's plenty in the plan that others can accomplish to improve community colleges.
The strength of the President's vision is that it casts a new paradigm that extends universal education beyond high school and invests heavily in community colleges to improve American economic competitiveness. Almost a century ago, the U.S. accomplished something similar by making high school widely available. That development opened up a new era of education and skills training that fueled 20th century American prosperity.
"Americans thrived in the 20th century because we made high school free. … We were ahead of the curve, but other countries caught on. And in a 21st-century economy that rewards knowledge like never before, we need to up our game. We need to do more," declared Obama during his State of the Union speech on Tuesday.
If the $60 billion, 10-year proposal were enacted by the end of the Obama presidency, the White House says America's College Promise would cover as many as 9 million students as they complete two years of tuition-free study either in an academic program whose credits will lead to transfer to a four-year college or an occupational training program leading to degrees and certificates that are in demand among employers.
Participation would be open to students who are enrolled in qualifying programs on at least a half-time basis, earn at least at least a 2.5 GPA and make consistent progress toward program completion. As part of the deal, community colleges would have to "strengthen their programs and increase the number of students who graduate," according to the White House.
Specifically, the America's College Promise blueprint seeks pursuit of several worthwhile objectives. For example, it advocates that Americans:
1) Engage Community Colleges as the Higher Education Sector Most Entrusted to Address the Nation's Changing Demographics. The community college sector is the most diverse segment in the nation's higher education system. Among the more than 1,100 U.S. public community colleges, Blacks and Latinos made up roughly 35 percent of total enrollment in 2012 while comprising just 24 percent of undergraduates in public four-year colleges and universities, according to U.S. Education Department data. While community colleges enroll large segments of minority students, experts worry whether two-year schools will provide a bridge to four-year institutions sufficient enough to ensure levels of bachelor degree production necessary for a healthy U.S. economy in coming decades. With the numbers of young Whites entering the workforce predicted to fall significantly over time, community colleges will shoulder increasing responsibility for helping ensure U.S. prosperity. In addition, minority graduates with associate degrees and certificates will be needed to fill the demand in many areas experiencing rapid employment growth.
2) Hasten Community College Reform. It's widely acknowledged that too few community college students graduate with degrees or successfully transfer into four-year colleges and universities. U.S. Education Department data shows that just 20 percent of students who started community college in 2009 had completed their programs three years later in 2012. In addition, while 80 percent of students entering community college plan to earn a bachelor's degree, only 15 percent do so within six years. From its earliest days, the Obama administration has pushed policy innovation by and secured new federal funding for community colleges. Accordingly, the White House has crafted its free tuition proposal to tie federal funding to performance standards for schools and students.
3) Demand that States Become Reliable Higher Education Partners with the Federal Government. In making his announcement at Pellissippi State Community College in Knoxville, Tennessee, President Obama highlighted the Tennessee Promise program, which will cover community college tuition starting this fall for all graduating high school seniors beyond what is covered by Pell Grants and other financial aid. Rather than wait for other similar initiatives to launch, the administration's plan invites states to partner with the federal government and asks that they provide 25 percent of the funding for their respective free-tuition programs. Such partnerships mean that states, despite their history of reducing support for higher education in recent decades, will commit to consistent funding levels that sustain free-tuition programs at community colleges.
4) Enhance the Capacity of Community Colleges to Provide Job Skills Critical to the Future Economy. By 2020, 65 percent of the nation's jobs will require postsecondary education and training, according to the Georgetown University Center on Education and the Workforce. Currently, about 42 percent of American adults age 25 and older possess any postsecondary degree. For many of the fastest-growing occupations, community colleges offer associate degree and certificate programs sufficient enough to guarantee graduating students entry into high-quality jobs. Under a partnership of federal and state governments through America's College Promise, community colleges can improve their vocational education offerings.
5) Nudge Four-Year Minority-Serving Institutions to Partner with Community Colleges. The Obama proposal does not formally address four-year minority-serving institutions (MSIs), but advocates say these institutions, which include historically Black colleges and universities (HBCUs), should be part of the conversation around America's College Promise. The Thurgood Marshall Scholarship Fund, which advocates on behalf of public HBCUs, has urged the Obama administration to provide "free tuition for the first two years for students attending any state-supported institution, whether they choose to pursue their post-secondary education at a 2-year community college or a 4-year state college." In the absence of free tuition being provided by four-year public institutions, it will be critical that MSIs, especially the least-selective schools, forge strong relationships with community colleges to ensure successful transfer outcomes for students who begin their postsecondary careers in two-year public institutions.
The Obama free community college tuition proposal deserves to be taken seriously for its big picture approach to higher education reform and it should likely spark a national discussion around its ideas. It argues hard that significant new higher education investment is far more about the public good than individual benefit. And that is an argument the president seems to believe will resonate with the American people long after he's left office.