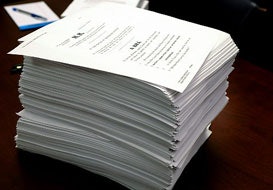 A congressional task force says colleges and universities are overburdened by federal regulation, including requirements that they disclose certain consumer information to students and families.
The task force, appointed by a bipartisan group of senators, consists entirely of 16 present and past university and college chancellors and presidents and representatives of university associations, and the report was produced by the universities' primary lobbying organization, the American Council on Education.
It found that federal regulations on institutions that share $160 billion in federal money for financial aid are "unnecessarily voluminous and too often ambiguous" and that the cost of complying with them is "unreasonable."
"When conducted the right way, government oversight provides essential protections for students and taxpayers," the report says. "But there are no benefits to unnecessary and excessively complex regulations."
This includes some of the information universities are required to disclose to consumers, which the task force said can be "of marginal value or very limited interest" or confusing and unhelpful.
"In addition to sometimes receiving too much information, consumers are also often given information that is not very accurate or meaningful," the report said.
It cited the federal definition of the graduation rate, which takes into account only full-time freshmen who start and finish at the same institutions, even though increasing numbers of students transfer and finish somewhere else.
Yet it was the higher education lobby that in 2008 blocked letting the government track individual students, which would have provided a much more accurate picture of how many graduate.
The Obama administration wants to expand, not reduce, some of these reporting requirements as part of a plan to provide ratings of universities based on cost, student success rates and other measures.
A spokeswoman for the Senate Committee on Health, Education, Labor and Pensions Chairman Lamar Alexander, R-Tenn., did not immediately respond when asked whether it was a conflict of interest for an industry to write a congressional report urging the elimination of regulations on itself.
U.S. Department of Education regulations alone on universities and colleges come to 2,000 pages, with an average of one additional document produced per day, the report says.
"As a result, colleges and universities find themselves enmeshed in a jungle of red tape, facing rules that are often confusing and difficult to comply with," it says.
The report particularly criticizes the process under which the Department of Education has tried to measure colleges based on whether the likely future salary of a graduate justifies the cost of the education required to get the job — known as "gainful employment" — which is particularly opposed by private, for-profit colleges.
Those colleges got an early version of the rule sent back for review by a federal judge, and has since sued again to stop it. The House of Representatives also passed a resolution trying to block the idea.
"The department has used the regulatory process to set its own policy agenda in the absence of any direction from Congress, and in the face of clear opposition to that policy from one house of Congress," the report said.
The committee, called the Task Force on Federal Regulation of Higher Education, urged that Congress order a review of the process through which the Department of Education issues regulations.
In a statement, department spokeswoman Denise Horn said it was "always interested in finding ways to improve the efficiency and effectiveness of our regulations and reporting requirements for higher education institutions. We are reviewing the report's recommendations and look forward to working with Congress on behalf of the best interests of students and taxpayers."
Reducing regulations will let universities and colleges "spend more of their time and money educating students, instead of filling out mountains of paperwork," Alexander said in a statement.
His colleague on the committee, Richard Burr, R-N.C., said he hoped the recommendations would be accepted "as soon as possible."
"Every day the situation worsens as a result of the Department of Education's never-ending addiction to regulating colleges and universities," Burr said.
The precise cost of regulations on higher education is "difficult and time consuming" to determine, the report said. But it cited a 1997 study at Stanford that found regulation cost 7.5 cents of every tuition dollar on following government rules. Hartwick College says it spends nearly $300,000 and 7,200 hours of labor annually complying with regulations, and Vanderbilt that they consume 11 percent of its operating expenses.