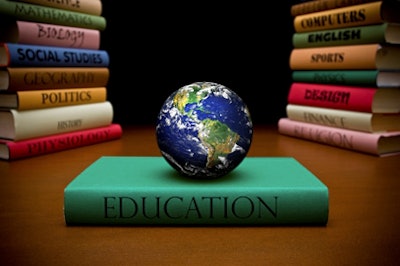 As the deadline for the reauthorization of the Higher Education Act (HEA) approaches, the conversation around what programs ought to see the most benefit from it will continue to intensify. The American Association of Community Colleges (AACC) held a series of panels at its 95th Convention on the federal policies that will impact community colleges and what some of the outcomes might be.
Ensuring that the Pell Grant program is continued is a key goal of many groups that advocate for the interests of low-income and minority students. According to the federal government's Pell Grant end-of-the-year report for 2012-13, 3.2 million community college students receive $10.5 billion worth of Pell Grants—or 33 percent of all Pell Grants awarded. During the reauthorization process, the AACC would like to see year-round Pell Grants restored as well as a return of the ability-to-benefit program, which allowed students who had not obtained a GED to go to college.
David Baime, senior vice president of government relations and policy analysis of AACC, said that, while Pell Grants should ideally be available to more students, due to budgetary constraints under the current Congress, the program does have the possibility to be spread too thin. "We are very sensitive about the potential for the program getting too big to sustain the current recipients or even additional recipients," Baime said at a Monday panel.
Although the deadline for reauthorizing the HEA is later this year, the reauthorization may not occur until 2016. "We expect to see reauthorization bills coming forward sometime in the next few months," Baime said. Instead of coming forward with one comprehensive bill, AACC representatives said at a convention panel on Monday that legislators instead will put forward smaller bills that will later be bundled into a larger bill.
The Senate Committee of Health, Education, Labor and Pensions (HELP), which will control the reauthorization process, is chaired by Senator Lamar Alexander of Tennessee. Alexander has already suggested that he would like to make significant modifications to the HEA, at one point comparing the process to "weeding a garden" and suggesting that the HELP committee should "start from scratch" on the HEA. Alexander has long spoken out in favor of streamlining the bureaucratic processes that colleges must follow, including shortening the FAFSA.
In the fiscal year 2015 budget, there was an uptick in funding for some programs that benefit community colleges, such as the work-study program, the TRIO program, and Title III and Title V programs. However, looking ahead to the fiscal year 2016 budget, those programs may see cuts, according to Jee Hang Lee, vice president for public policy and external relations at the Association of Community College Trustees. Lee said that ACCT received data from the House over the weekend indicating that $1.6 billion would be cut from education-related programs. While the cuts may not impact Pell Grants, it may reduce the funds available for smaller programs, such as TRIO.
Pell Grants are key for millions of low-income students working to obtain a degree or certificate, but President Obama proposed a more comprehensive program in January—America's College Promise—that would make community college free for students who could meet certain academic requirements.
The proposal garnered a great deal of media attention perhaps more than any other community college initiative. "I think lost in the discussion was a little bit of the relevant details about what this proposal was and what it wasn't, and it should also be pointed out that there is a whole lot of meat that hasn't been put on the bones of this proposal," Baime said.
Staff writer Catherine Morris can be reached at [email protected].