Through her experiences as president, professor and community partner, Dr. Stelfanie Williams has leveraged the power of collaboration to make Vance-Granville Community College (VGCC) in North Carolina a transformational place for students.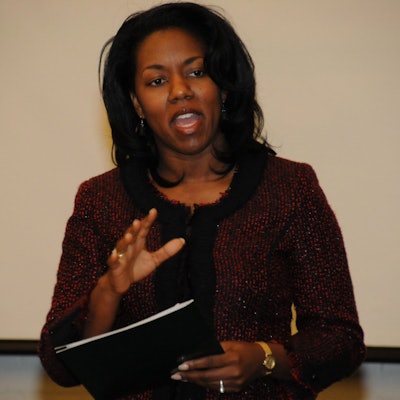 Williams, VGCC's sixth president, recently was named President of the Year by the North Carolina State Board of Community Colleges for her leadership and commitment to the community college mission within the state's community college system. She is the first leader at VGCC to receive the honor.
The award "is an honor and reflects the collective contributions of the team at Vance-Granville Community College," Williams said. "My thoughts immediately went to my colleagues at the college who have dedicated themselves to our mission of educating, inspiring and supporting students."
Danny Wright, chair of the VGCC Board of Trustees, called the recognition "a well-deserved honor for Dr. Williams" that "reflects positively on the entire Vance-Granville team."
"My fellow trustees and I are delighted that the State Board of Community Colleges has recognized Dr. Williams for her visionary leadership. Our entire region has been blessed to have Dr. Williams lead Vance-Granville Community College to new heights of excellence. She serves our institution, our community and the state of North Carolina with warmth, humility and a passion for student success," said Wright.
Williams' presidency has been filled with new innovations at the college and strong community partnerships due to the implementation of a five-year "Vanguard Vision" plan begun in 2013. The plan helped VGCC add seven new curriculum degree programs and increase student support services, student achievement and completion, in addition to creating workforce partnerships for students to have experiential learning.
"We established goals that address educational excellence, continuous improvement, employee and student engagement in college life, and institutional stewardship," Williams said. "Every department in the college set strategies and worked to attain them for the benefit of our students."
"Our approach is seamless education that provides students access to college pathways while in high school, to work-based learning experiences, and to integrated university programs," Williams added.
With additional "support and generosity" from community businesses and industries, educational systems, organizations and donors during her tenure, Williams said, VGCC secured the largest grant in the college's history, the second-largest private donor gift and hosted six high-yielding annual golf tournaments for student scholarships.
Students also participate in programs that Williams helped to establish, such as Eagle Voyage and Regionally Increasing Baccalaureate Nurses (RIBN) through partnerships with North Carolina Central University and North Carolina A&T, respectively. Such programs provide VGCC students with the opportunity to complete bachelor's degree programs at the universities.
"In community college discourse, access is often considered in terms of open admissions to community colleges," Williams said, "but students benefit from broad access to all of the experiences that will best prepare them for careers and life."
Another initiative she introduced — the "VanGuarantee," a private donor-funded college promise program —helps ensure that students, "particularly those with the greatest financial need, would be able to realize their dreams and complete their credentials," Williams said.
Williams' work as president of VGCC is complemented by her professorship at North Carolina State University, where she is an adjunct faculty member in the College of Education. These experiences allow her to reflect on the importance of continually learning as an adult educator.
Williams earned a bachelor's degrees in public policy and Spanish at Duke University, a master's degree in project management at Western Carolina University and a doctorate in adult and higher education at North Carolina State University. She has served as a faculty member and administrator at various community colleges, including as a director, dean, and vice president.
She said her greatest reward serving as president of VGCC comes from awarding credentials to students who are well-prepared for careers, higher education and life following their time at the college. Closely behind that, she enjoys working with colleagues who are passionate about their professional disciplines, the students and the community in which they all work and live.
"Community colleges are uniquely suited to impact economic, workforce and community development, and I feel fortunate to lead and serve at an institution dedicated to making a difference," Williams said.
Tiffany Pennamon can be reached at tpennamon@diverseeducation.com. You can follow her on Twitter @tiffanypennamon.