San Diego Community College District (SDCCD) has strategically increased its support of Hispanic and Black men in the last few years, making the district a leader in improving outcomes for the historically underserved groups.
Through programs such as Mesa Academy/Umoja, Puente, Hermanos Unidos/Brothers United (HUBU) and the Extended Opportunity Program and Services, the district engages men of color in ways that enhance their experience on campus, interrupt cycles that may place them in remedial courses and provide support tailored to their needs.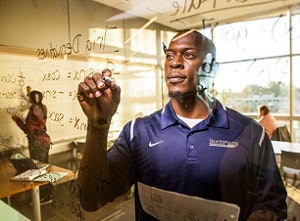 SDCCD faculty members receive training to better support and work with challenged groups that community colleges serve: first-generation students, students with food or housing insecurities, students of color and, particularly, men of color.
"Every single college in the district really has a very strong leader who is very equity-minded," said Dr. J. Luke Wood, drector and Distinguished Professor of Community College Leadership at San Diego State University. "Not from a standpoint of 'This is cool, this is something we should do.' But for them, it's their core commitment. It just looks different here than it looks at a lot of other places."
As a result of intentional efforts to support men of color, Dr. Ashanti Hands, vice president of student services at Mesa College, said the institution has seen outcomes gaps close. Between the 2015-2016 and 2016-2017 academic years, completion rates for Black and Hispanic students increased from 37 to 40.4 percent, and 43.7 to 50.1 percent, respectively.
"It's not just about access," she said. "We can get you there, but we want to make sure that we can keep you there and pull you through."
After assessing institutional data on student outcomes, Mesa leaders developed programs and efforts with their Black and Hispanic students in mind. The wealth of support programs that evolved as a result created learning communities for Black and Hispanic male students.
Now, these students attend conferences, conduct community service and take personal-growth classes around college success and lifelong learning, Hands said.
The programs also give the men a voice on campus. One Umoja series, "Real Talk," convenes a panel of Black men who talk about their experience on campus and in the community.
"They speak from a place of power and strength," Hands s. "It is awesome because faculty will bring their classes, administrators will attend, students will attend. There's a lot of learning going on."
In many ways, the programs that engage men of color at Mesa and other SDCCD colleges are plentiful, intersect and weaving into other departments such as the athletics department to better reach students.
Institutional officials know that students may not come to the spaces created for them, so "we now take our services to the places and spaces where our students are," Hands said. "We help to build those relationships in a space and environment that is comfortable for our students."
San Diego City College student Ignacio Hernandez Valverde said the support he has received from his institution helped him adjust to college as a first-generation student because he did not know what to major in when he arrived.
"It took me six weeks to be able to just start college," he said.
Soon after arriving, he began participating in the Extended Opportunity Program and Services (EOPS), where he realized his passion for social justice and serving others in his community. EOPS also connected Valverde with financial aid resources, other students and a counselor who sat down with him to discuss time management, life and a plan for his future.
The counselor, Valverde said, "showed more interest in knowing me than the regular counselors. She helped me really know, 'Ok, these are the steps if you want to transfer to a university, these are the steps that you need to do to complete what you need.'"
The help of professors and an accidental encounter with mental health services eased the stress Valverde faced last semester, he said.
"I just went to ask a question and I ended up staying for 20 minutes. It changed my life and the way I see things. I am less, less stressed than last semester now after that one visit."
Valverde serves as a student trustee on the SDCCD Board of Trustees and sits on committees that allow him to help DACA recipients, formerly incarcerated students, nontraditional students and students who need assistance with financial aid at City College.
His experience enabled him to participate in an internship with the American Federation of Teachers, reinvigorating his fight for social justice through teaching. He is preparing to transfer, and his top choices are the University of California at Los Angeles or the University of Southern California.
Reflecting on his community college experience, Valverde said, "We all have different things that we are trying to accomplish, but we all support each other. It's been really supportive being here at San Diego City College."
Wood noted that SDCCD's model of support is progressive because it addresses the leading factors that contribute to low completion rates for men of color: teachers who are unprepared to work with them, education infrastructures that segregate certain students into different learning experiences and general issues of unconscious bias and microaggressions on campus.
"Intrusive" strategies implemented throughout SDCCD include hosting ongoing programming that exposes faculty to topics that go beyond traditional community college training regimens, Wood said. "They're not doing the old model of 'Let's have a brown bag focused on microaggressions,' and then the only people who show up are people who are already doing the right thing."
The district offers in-person and online training programs, conferences and workshops for administrators, faculty and staff that focus on best practices in assessing, teaching and supporting men of color, eliminating microaggressions and more. Key initiatives include the "Teaching Men of Color Workshop" series and the "Black Minds Matter: A Focus on Black Boys in Education" course.
In addition to partnerships with historically Black colleges and universities, collaborations with prominent education organizations and institutions – the Center for Urban Education and Wood's Community College Equity Assessment Lab (CCEAL) at San Diego State University, for example – have helped colleges in the district use data instruments to design interventions for students and educators.
Mesa and the district lead their efforts with those who are willing to impart change, Hands emphasized. Efforts include paying attention to student needs, being innovative with interventions and moving away from a deficit model that blames students for their outcomes.
"We're not going to blame K -12, we're not going to blame family life … because we can't touch or impact any of that," Hands said. "But the things that we can touch and impact? The classroom, our services, what our aesthetics look like. That's where change begins."
And while there has been some resistance, Hands said the institution is committed to its vision of being a leading college of equity and excellence.
"Is everyone on board? Absolutely not," Hands said. "But do you see the cultural shift? Sometimes my mind is blown when I think about the conversations that we're having that we were not having before 2014. It's exciting!"
Tiffany Pennamon can be reached at [email protected]. You can follow her on Twitter @tiffanypennamon.