Florida A&M University is on track to increase its transfer student enrollment to 1,100 by 2020 through new partnerships with Florida College Systems (FCS) schools and community colleges this year.
Starting in the fall, FAMU's transfer student program, IGNITE, will partner with Florida State College at Jacksonville, Florida Gateway College and Pasco-Hernando State College, providing incoming students with the opportunity to reduce their cost of attending a four-year university and streamline their time to degree completion.
Current IGNITE partner colleges include Broward College, Miami-Dade College, Santa Fe College, Tallahassee Community College, St. Petersburg College, Palm Beach State College and Valencia College.
"The IGNITE partnerships are essential in providing cost-effective opportunities for students to pursue a bachelor's degree at FAMU," said Dr. William E. Hudson, Jr., vice president of student affairs at FAMU. "Students who may not meet the minimum admission criteria can remain connected to the university."
Incoming transfer students enrolling through the IGNITE program receive guaranteed admission consistent with FAMU's policy requirements of an earned associate's degree and minimum 2.0 GPA.
Admitted students participate in an in-depth transfer orientation and receive support from a comprehensive enrollment management team and a FAMU representative who provides "step-by-step" support to the student before, during and after the transfer process, Hudson said.
Utilizing the "Venom" academic pathways, students can "take prerequisite courses to specific majors while minimizing financial liability," Hudson said.
IGNITE students also are eligible for the Florida Community College Scholarship and have access to priority registration, internships, on-campus sporting events, study abroad opportunities and the Graduate Feeder Program.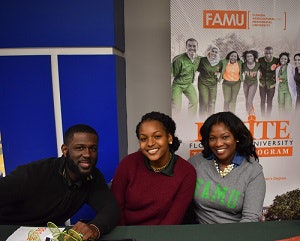 Oreauna Vickers, a senior public relations major who transferred from Palm Beach State College, said IGNITE has enhanced her collegiate experience at FAMU because she had some worries about transferring to a larger university from a small town.
"It has made a huge difference because, as far as me transferring here, I really didn't know much about FAMU," Vickers said. "I was connected with people from FAMU like administrators and [other] people through the IGNITE program.
"It pretty much just made me a lot more comfortable and made my transition a lot easier. I was able to meet a lot of transfer students who related to me."
Taking advantage of internship and scholarship opportunities, among the other supportive benefits of IGNITE, has been beneficial for Vickers, who added that she would like to see more transfer students highlighted on campus.
Creating strategic partnerships with community colleges to "facilitate a seamless transition" of transfer students to FAMU is an initiative of the university's strategic plan, "FAMU Rising." In line with its goals for 2020, the university had welcomed 854 transfer students by the end of the Spring 2018 term.
"Transfer students are critical to the mission of FAMU, as we provide an opportunity to the students who may not have the opportunity to obtain a bachelor's degree," Hudson said. "State colleges provide a great foundation for many students who want to pursue bachelor's, master's and doctoral degrees."
FAMU officials have received positive feedback about IGNITE, Hudson said, with the FAMU Transfer Student Association continuing to help recruit and support transfer students in the program. Leaders plan to extend the program to other state colleges as it matures and resources are allocated.
"Historically, FAMU has made a tremendous impact on the state of Florida through student social mobility," said Hudson. "It is critical that we continue to improve on social mobility of students and families. Thus, making transfer students a priority in this process makes good sense."
Tiffany Pennamon can be reached at tiffany@diverseeducation.com. You can follow her on Twitter @tiffanypennamon.