Journalist Richard Whitmire discusses how to significantly improve graduation rates of first-generation, low-income, minority college students in his sixth book, The B.A. Breakthrough: How Ending Diploma Disparities Can Change the Face of America.
Whitmire, a past president of the Education Writers Association and former editorial writer for USA Today, discussed the book and related issues with Diverse.
How did you become interested in issues of college student persistence, particularly among first-generation, low-income, and underrepresented minority groups?
As a veteran K-12 education reporter, for many years I tried to identify high-poverty school districts that succeeded where others had not. That proved to be problematic, because a district that appeared to be making significant progress would suddenly fall behind again, often the result of a reform leader pushed to the side. As a result, I started tracking charter school networks: Were they doing any better? Eventually, I settled on the success measurement those charter networks had originally proposed to parents: We will ensure that your children will earn a college degree. So were they? That's an interesting story, which I tell in the book. But in short, after a fitful start, it appears that is happening, at a rate between two and four times better than what would be expected. The lessons they have learned are invaluable, and need to be absorbed by others.
What are the top reasons students from underrepresented groups drop out of college before graduating, and in which of those areas do you see the most improvement?
The students I interviewed were very high-poverty, and only going to college on near-full scholarships. Their financial issues were more the gap issues – how to pay for mandatory freshman-year orientation, how to pay for mandatory health care, how to deal with all the unexpected expenses that scholarships don't cover. Beyond that, I'd say that culture shock emerged as the top reason for dropping out. They found themselves isolated and wary of asking for help. For some, the freedoms of college, a sharp contrast to their tightly scripted life in high-performing charters, proved to be too much to handle. The one area with the most promise: microgrants designed to pay for the small things, such as a bus ride to college or transition funding between grants. These microgrant programs present an opportunity for people of modest means to make donations that really have impact.
How are partnerships between community colleges and four-year schools affecting baccalaureate degree attainment among underrepresented students?
I think groups such as The Aspen Institute have it right: boosting the number of students who successfully progress seamlessly from community college into four-year programs offers the biggest payoff toward achieving the goal of having more low-income, minority students come away with four-year degrees. Universities such as George Mason University and UCLA show that it's possible. Why others aren't adopting their models is unclear. I hope that changes.
What's the impact of bad student-college matches on graduation rates of underrepresented students?
This is huge. Essentially, it's the biggest takeaway from what the top charter networks learned as they pressed to boost the college success rates for their alumni. Two colleges in the same acceptance band (somewhat selective, for example) can have dramatically different graduation rates for minority students. Steering students into the better option amounts to low-hanging fruit for college advisers. And yet so many schools lack college counselors equipped to do data-based advising.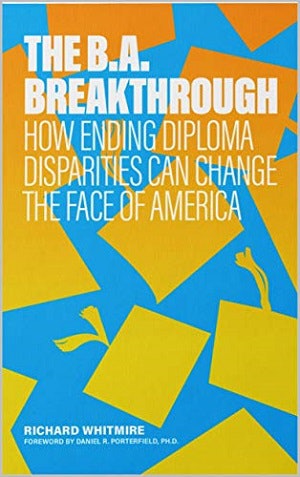 Is there unexpected success in degree attainment among underrepresented students in certain parts of the United States?
Definitely. Casting around the country, I'd pick out the high-poverty Rio Grande Valley in Texas as a place to showcase. Due partly to the intense efforts made by IDEA Public Schools, the valley has become a place where students from families with limited or no college expectations are earning degrees, in many cases surprising themselves. If the University of Texas Rio Grande Valley weren't so isolated (paid attention to now mostly because of the border controversies), it would be a symbol of success for ensuring more underrepresented students earn degrees.
What audiences does The B.A. Breakthrough target, and what do you want them to think, feel, or do after reading the book?
I have several "targets." The most important would be traditional school districts, which rarely track what happens to their alumni. They should know, and they should report that to their parents. It's what parents care most about. How can they adjust their curriculum, teaching, etc. to boost college success if they have no idea if their alumni are succeeding in college? I also hope they will connect with willing partners, the big charter networks, that are offering their lessons-learned as part of collaborations. Already, New York City, Miami and Newark have teamed up with KIPP (nonprofit public charter schools) to pursue college success. This is a win-win for the districts. They lose no students to charters, and they win respect from their parents and former students.
Another target would be colleges and universities that have not yet embraced the goal of greatly boosting the number of first-generation students that they admit. And it's not just about admittance; it's about seeing that they make their way through. The elite universities already do a good job seeing that their first-generation students walk away with degrees; they just take too few. The real challenge lies with second- and third-tier universities, the "commuter" colleges where so many first-generation students end up. When they start taking more responsibility to ensure that their students stay on track to graduate, that's when we'll see real change taking place.
The final target: philanthropies funding organizations that provide data-driven college counseling to students in school districts that lack it – which is a lot. In the book, I profile College Advising Corps, but there are many out there. They should know that their investment is paying off, and needs expanding. The need is pretty much limitless.
LaMont Jones can be reached at ljones@diverseeducation.com. You can follow him on Twitter @DrLaMontJones