SEATTLE —
About 4,500 scholars are convening in Seattle this week for the 135th annual Modern Language Association (MLA) Convention.
The first day of sessions was a smorgasbord of hands-on professional development workshops, deep-dive literary lectures, small group discussions and panels on the academy. But it also showed the association dipping its toe into relatively new waters, with an emerging emphasis on pedagogy and the humanities at community colleges.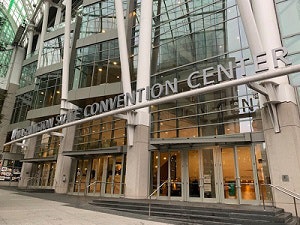 "In recent years, teaching and pedagogy has become a little bit more prominent. The two-year college [focus] I think is pretty recent," said Dr. Sean Gerrity, an assistant professor of English at Hostos Community College. Still, "it's kind of a relegated side thing."
He noted that more Ph.D. recipients with a literature focus are getting jobs at community college, where they mostly teach writing.
"They weren't trained in writing pedagogy," he said. "For us, there's a kind of void there. We're being trained to do one thing and hired to do another thing that's sort of different. We all know how to write but we haven't been trained extensively on how to teach how to write."
He co-organized a session with Hostos Community College Assistant Professor of English Dr. Alexandra Milsom called "Antiracist Pedagogy and Assessment at the Community College," a wide-ranging panel discussion on techniques for more equitable teaching.
Houston Community College English instructor Dr. Erica Stevens spoke about her own shock after losing nine students, six Black women, across two English composition courses she taught. She emphasized that the linear nature of getting a degree conflicts with the "zig zags" community college students often experience in their academic paths as they juggle responsibilities outside school – missing homework assignments, accruing absences or retaking courses.
"How can we serve the prodigal student?" she asked, noting that student success is judged by retention more often than by "recovery or by return."
Among other teaching suggestions, she advised reaching out to students who have been absent just to say "we miss you" and acknowledging their presence when they're there.
"I try to celebrate their return," she said.
Dr. Jewon Woo, an English associate professor at Lorain County Community College, described an experiment she did in her classroom – an individualized writing rubric where students could add one box for their own criteria that she would include for their specific paper. Students chose personal criteria ranging from "fluidity with colloquial expressions" to "invisible hard work and determination outside the classroom." She found that students of color benefited, feeling a "sense of ownership" over their own writing.
The experiment "gave me a kind of hope," she said.
Other panelists, like Guttman Community College assistant professor Dr. Ria Banerjee, proposed a "cheating to learn" technique, as her students put it – letting students take open-book exams and giving them test questions 24 hours in advance.
While her students feel like they're being allowed to cheat, the goal is to "ease the test anxiety in my academic newbies," she said, while assessing them fairly.
She also uses a flat unweighted rubric so that for inexperienced writers, writing style is only one facet of their grade. She and other panelists emphasized that writing skills shouldn't be synonymous with how White academics speak.
"Language at a fundamental level is access," she said. "I want students to claim academia for themselves."
Banerjee noted, however, that she also feels a tension between encouraging students to communicate their ideas outside the strictures of "standard English" and doing what administrators and alumni want her to do, assessing students on traditional academic writing skills that students may need for future jobs and graduate programs.
Austin Bailey, a doctoral candidate in English at the City University of New York's Graduate Center, spoke about "the practice of ungrading," moving away from "White supremacist myths of objectivity." In his classroom, he asks students to self-evaluate their writing in a statement, where they also write about how their identities influence their work.
While he has to submit a grade at the end of the day, Bailey plays "a minor role in what those grade are," he said. "It's kind of a leap of faith."
Later in the day, discussions of pedagogy, and specifically pedagogy at community colleges, continued in breakout groups for a session on Strategies for #Decolonization. Scholars gathered in circles to discuss a variety of challenges to diversity work – citation practices, material resources and more – as well as the use of the term "decolonization" itself. In the latter group, the conversation wandered to what it means to decolonize literature classes for community college classrooms predominantly made up of students of color. Faculty came up with a range of ideas, from throwing out the traditional cannon of White male authors to advocating for diverse teachers in early education.
The themes of pedagogy and community colleges will continue throughout the conference, with multiple sessions on teaching practices and diversity yet to come.
Sara Weissman can be reached at sweissman@diverseeducation.com.