While in the classroom, Dr. Charlene M. Dukes saw herself in many of her students and connected to them on a personal level.
Dukes understood the challenges facing low-income and first-generation college students because she was one herself.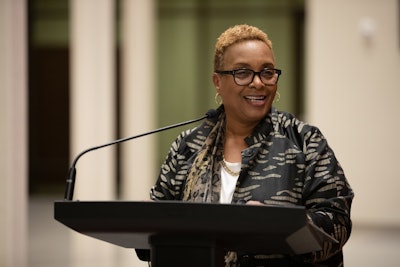 Her older brother was the first in her immediate family to attend college as both her parents did not receive a postsecondary education. For support, Dukes turned to people close to her who had gone to college, community members and a school guidance counselor.
"I had a number of people who were very much committed to my dad's dream and my mother's dream for their children that we would have opportunities that they did not have and that we would make the best of them," says Dukes, president of Prince George's Community College (PGCC) in Largo, Maryland.
While at Indiana University of Pennsylvania (IUP), Dukes not only had to navigate the obstacles of being a first-generation college student but also of being a person of color at a predominantly White institution (PWI) in the late 1970s.
"It was a tough time when you think about what was going on in this country, in the world and in communities at that time relative to race relations," she says. "It hadn't been that long since Dr. [Martin Luther] King [Jr.] had been assassinated, the Poor People's Campaign and the March on Washington. All of those kinds of things shaped, I believe, who I was, who I was then and who I remain to be today."
Despite having positive experiences in the classroom with faculty members and excelling academically, there were still students who felt that people of color were getting a "pass" for earning their educations at a PWI due to affirmative action and the civil rights movements occurring in the 1960-70s. Dukes said it was perceived that people of color could not keep up with the "rigor" or "academic standards" of the university.
"I've always been the kind of person who accepts the challenge," she says. "And the challenge for me at that time was to prove them wrong. That I had scored, at that time, a really high score on the SATs. And I knew that I had what it took intellectually and academically to do the work. And so, for me, it was a challenge. And I believe that I met the goal."
The career track
Dukes graduated from IUP in the early 1980s amid a recession, making it difficult to find a teaching position. Additionally, in some communities, employers were not expecting an applicant who was a woman of color.
However, after hearing about an open position at the University of Pittsburgh at Johnstown from a friend, Dukes applied and became the institution's admissions and financial aid officer.
After a year in the role, Dukes moved to the Community College of Allegheny County (CCAC). Over the span of 14 years, she worked as the assistant director of admissions, director of admissions, director of minority affairs and then eventually as the dean of students.
In 1995, Dukes transitioned to a new role as vice president for student services at PGCC.
During her time at both CCAC and PGCC, she also earned around nine years of adjunct teaching experience.
"I love the experience in the classroom," Dukes adds. "The students were very eager and wanted to learn."
Despite wanting to be a teacher as an undergraduate student, Dukes described herself as a college administrator as she holds a "deep commitment" to seeing students succeed as well as advocating for them, especially those with no voice.
"As I began my career trajectory, I always wanted to work in places where I could make a difference," she says. "Where I could use all my talents, my expertise and I would say my value system in order to move the institution forward in a collaborative way and also to help students understand that they would always have someone in their corner."
A presidential role
After almost 12 years at PGCC, she was named president in 2007.
Throughout her tenure as president, Dukes established partnerships with the local Prince George's County community via programs like dual enrollment.
In 2011, the first middle college was launched by the institution, through Prince George's County Public Schools, which allowed students to earn their high school diploma and associate degree simultaneously.
According to Dukes, almost nine years later, seven middle college programs serve around 700 students annually. Additionally, around 2,500 students participate in the dual enrollment programs.
Dukes co-chaired the task force behind the establishment of the Prince George's Promise Scholarship, which covers the cost of college beyond what federal and state financial aid cover.
"We've come a long way, but that journey is all about serving the residents of Prince George's County," she says.
In addition to various ties with local schools, Dukes has overseen the development and expansion of several buildings and centers on campus such as Lanham Hall, the Center for Performing Arts, the Center for Health Studies and the Culinary Arts Center.
She also holds memberships in organizations such as the American Association of Community Colleges, the American Council on Education and the Presidents' Roundtable. Additionally, Dukes sits on the board of directors of the Institute for Higher Education Policy, the Prince George's County Chamber of Commerce and Campus Compact, which addresses civic engagement on college campuses among faculty and students.
"You know, there are a number of things that I've had the opportunity to do, I think, because of this position and because of the values that I bring to the position and because of our desire to always be innovative, creative, flexible and to learn more, to always seek out what we don't know that we don't know," she says.
As a college president, Dukes has found that her audience is not only the faculty, staff and employees at the institution but also external ones such as local and state governments and non-profit organizations.
"We have the opportunity to touch, to make an individual better than maybe he or she ever thought they could be," she says. "And they would always say, when we touch a student, we have the opportunity to touch a family and a community and to provide the opportunity for quality of life that many may not have imagined."
In October, Dukes announced her decision to retire on June 30 as PGCC's president after serving more than 40 years within the higher education sector.
"I just think that at some point it's time to focus on other things that I would like to do that don't necessarily take me that far from higher education, but it allows me to look at it in a different way," she says.
Upon retirement, Dukes plans to spend more time with her family and travel once it is safe to do so amid the COVID-19 pandemic. Additionally, after taking a break, Dukes wants to eventually serve as a coach and mentor in higher education to help institutions prepare for the future.
"My intent [is] to take a train ride around the United States of America, to do some international travel, spend some time with my son, my mom and then come back and roll my sleeves up and continue this work but in a different way," she adds.
This article originally appeared in the June 25, 2020 edition of Diverse. You can find it here.