The experiences of student parents pursuing a college education amid the COVID-19 pandemic was the focus of Thursday's Achieving the Dream Student Parent Success Summit.
A number of leaders, speakers and attendees across all disciplines at educational institutions and community-based organizations participated in the five-hour Summit, providing equitable recommendations to develop campus programs/policies that support student parents.
Data at Ascend via the Aspen Institute — a national hub that supports children and the adults in t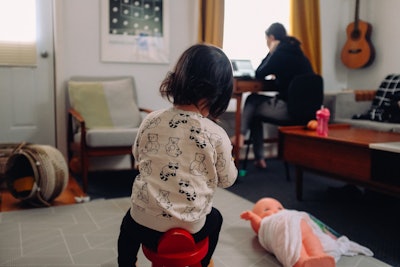 heir lives achieve educational success, economic security, health and well-being — and in partnership with the Institute for Women's Policy Research reveals that the majority of student parents have children under the age of 6.
That's very much the case for student parent Yoslin Amaya Hernandez, who is a DACA-recipient and senior at The University of Maryland College Park (UMD). Her young boys are ages three and five.
Due to COVID-19, she has had to think about how to forge connections as a student.
"Do I want to do another [Zoom networking] event or spend time with the kids?" she asked herself. "But if I don't take these opportunities, I am walking into an economy right now like it was in 2010."
Because classes went remote for both her and her children, childcare was difficult to find. Hernandez's typical childcare provider was a family member, but she's been unavailable because she has had to tend to her own children as a result of the pivot to virtual learning.
And since her children's school continued to change its schedule of online classes, "it was hard to get them on a schedule when there was no [consistent] schedule," she said.
"If [my university] would have given me more flexibility and allowed me to take classes asynchronously, instead of having to sit on the computer via Zoom that would have been helpful," said Hernandez. "Because it's hard for me to focus [on school] and my kids," especially if they're all on Zoom at the same time.
Flexibility is key when it comes to the pandemic and to accommodating student parents who have different demands on their time, said Summit experts.
Anne E. Hofmann, the Parents Lead program coordinator at Frederick Community College noted that faculty may get a "bad rep for good reason, for not being flexible." She said that faculty should be flexible in terms of deadlines and in understanding.
The main questions to ask are, "What kind of information [do they need?] and how do adults learn differently from traditional students?" she said.
Having a trained faculty member in the classroom, who understands what the student parent experience is like, is critical to student parents' success in the classroom, Hofmann explained.
"Student parent work is race equity work," added Nicole Lynn Lewis, CEO and founder of Generation Hope, a nonprofit organization reducing poverty for families.
She noted to "not necessarily think about this population as completely disconnected from the other populations," adding that there is much intersectionality between student parents and other groups: first-generation college students, students of color and low-income students.
Dr. Karen A. Stout, president and CEO of ATD said that being intentional in supporting student parents must be an urgent priority for institutions.
These are "students who still have dreams of working in a job that they can find to be rewarding and offering a wage and to have a comfortable life without constant agony to find the money to pay the monthly bills," she said in her keynote.
One step that community colleges can take is "meeting parents where they are," she said.
This can potentially take form in designing or redesigning programs for student parents and connecting with prospective student parents, engaging them and helping them understand they have a pathway to success at the college, she added.
Another proactive step that panelists and student parents agreed on was finding a way to merge student parents with both the on- and off-campus workforce. In this way, they'd gain work experience, skills and potential work benefits at the local and state levels.
"Students are also assets," said David Croom, assistant director for postsecondary achievement and innovation of Ascend at The Aspen Institute.
These practices can lead to creating a family-friendly campus — a message echoed among the panelists.
But there's still work to be done.
"To me being a student parent kind of correlates to being an immigrant Latina here in this country. And that's oftentimes just invisible because we're not really seen, we're not really heard," said Hernandez. "And we're kind of dismissed at all points because the system wasn't built for us. It isn't for us. So being a student parent to me, is having to figure out life with your kids and having to explain to them why I'm not home or why I'm on the computer so long."