Many people begin making career plans in high school or college. For Dr. Lori Weyers, the process began a bit earlier.
"As early as kindergarten I wanted to be in education," says Weyers, who is retiring as president of Wisconsin's Northcentral Technical College. "I've never wavered from that desire. My first love was being a teacher and that is why, from kindergarten through high school, I never varied from that."
After serving as president for 15 years and holding positions in the Wisconsin Technical College System for 42 years, Weyers leaves a record of improvements and accomplishments that includes "substantial" enrollment growth, strategic partnerships with local businesses, K-12 school districts and community organizations and establishment of NTC's nationally acclaimed Virtual College, according to the district board of trustees' statement on her retirement.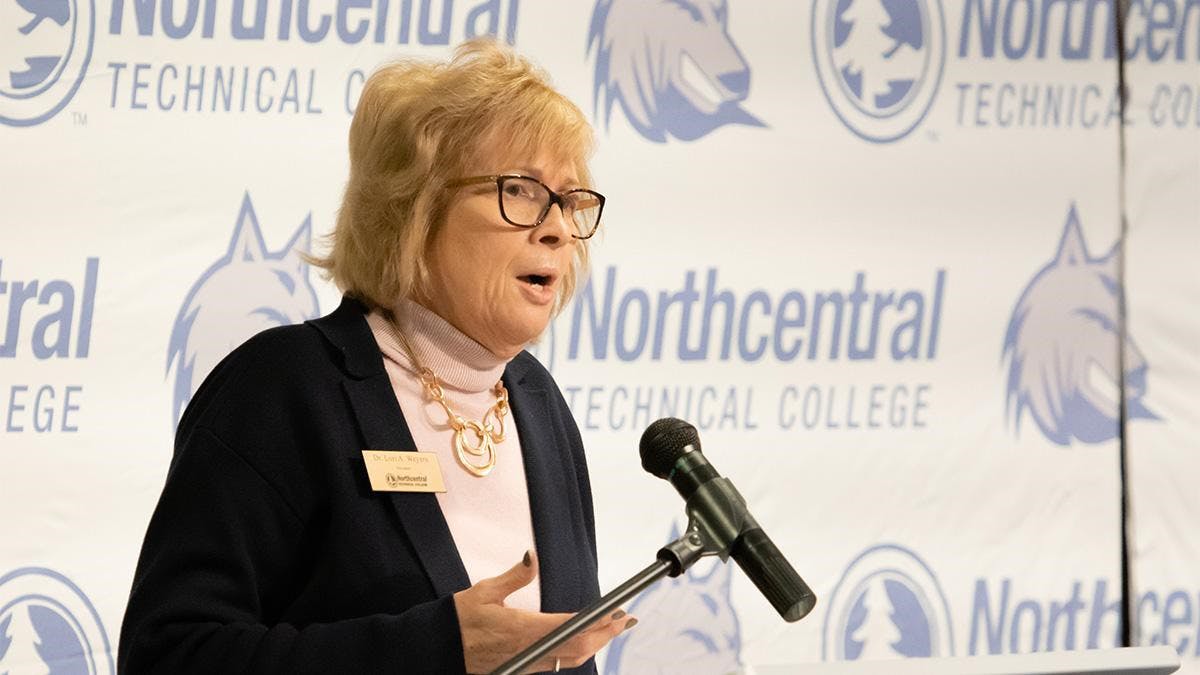 Weyers became interested in students with special needs while growing up with a brother who was stricken with polio, which affected his physical and mental development. "Watching all of the challenges that my older brother went through and the impact on our family led me to get a master's in rehabilitative counseling, working with families and individuals hit by some kind of a tragedy," Weyers says.
"My brother was a very healthy kid and then — bam! — he ended with a whole change in personality," Weyers says. "I watched what he went through in school with the other kids being very cruel."
That experience and her studies (her bachelor's degree is in psychology and behavioral disabilities) took her into vocational ed, where she was quite content. But education leaders repeatedly suggested that she should obtain a doctorate and seek a college presidency.
"I went back to school at the ripe old age of 46," she says with a laugh. Six and a half years later, after earning her Ph.D. in educational leadership and policy analysis from the University of Wisconsin-Madison, Weyers became NTC president.
During her four decades in technical college education, she has noticed many changes in the composition of the students and the role of technical college education. The students are a lot younger now, and there are more part-timers. "The students today have a lot going on in their lives: jobs, families and, recently, coping with COVID-19."
Weyers believes the college continues to play an important role in the community, although the composition of students has changed over the years.
"I've been able to watch the evolution of our students who now come in looking at this as a starting place and not as an end place," Weyers points out. "And we continue to be the college for people that need second chances — from the single mom who's very nervous coming back to college, to the valedictorian  who wants to start with us to get the technical skills and then go on, and the dislocated worker that all of a sudden after 30 years has been outsourced by their job because they don't know technology and comes back to us for help — and for that special needs student who needs just a little more attention and care."
One of the highlights of Weyers' presidency has been establishing the Centers of Excellence focused on the areas of manufacturing, health, business, public safety, agriculture, wood technology and transportation.
"I love working with businesses," says Weyers. "We are an economic engine to the local economy and I'm a really big believer in listening to our stakeholders, whether it be our students or the business community."
Weyers believes the pandemic was "probably the hardest time to lead in my entire career, trying to lead 30,000 students and a thousand employees from a spare bedroom office." She credits her leadership team for rising to the occasion. "Everybody stepped up their game. . . if you had told me five years ago that we would have taken an entire college, including all of our students, and given them all the technology within three days and made them totally able to conduct their business remotely, I would have said that's impossible, but we did it here."
In fact, Weyers says the institution "had a better retention rate for our graduating class during the shutdown and the pandemic than we had before."
As a result, Weyers says that going forward many of the practices implemented during the COVID-19 crisis will be maintained. Her successor, Dr. Jeannie Worden, was a member of the team that Weyers praises so highly, serving as NTC's executive vice president before being appointed president.
The pandemic also "put a different focus on what's important to us," Weyers says, explaining her increased appreciation for mental health professionals, staff working remotely and frequent communication with the college community, triggered by the crisis.
Her immediate plans are to catch up with family members, including new grandchildren she hasn't seen due to the pandemic, and to spend more time with her older brother who has influenced her life so much. "So I'm going to be my brother's helper, and I'm going to put more emphasis on going from Dr. Lori to Grandma Lori."
This article originally appeared in the June 24, 2021 edition of Diverse. Read it here.