A Chicago-based student support program for community college students is set to drastically expand its reach and the number of students it serves. Matters surrounding this expansion and scalability were discussed in sessions at a a one-day symposium, Building Towards Equity in Higher Education.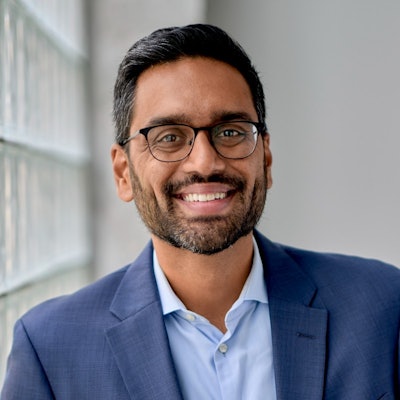 The symposium – held Tuesday at the Malcolm X College Conference Center– was hosted by low-income community college student support organization One Million Degrees (OMD), City Colleges of Chicago (CCC), and The Inclusive Economy Lab at University of Chicago (IEL).
OMD assists students by offering personal, academic, professional, and financial support, pairing them with a program coordinator who manages their case, said Aneesh Sohoni, chief executive officer of OMD. Founded in 2006, the program now serves almost 900 students.
One of the sessions focused on IEL's recent study – a randomized controlled trial of students – of the OMD program, a study that indicated that participating in OMD affected and increased enrollment in post-secondary institutions, persistence, and degree-attainment. Notably, the enrollment finding had been unexpected, said Dr. Kelly Hallberg, IEL scientific director and session panelist.
"OMD has always thought of itself as a college support program, not a college access program," Hallberg said. "But we were actually seeing that the program was moving the needle in terms of students enrolling in college in the first place."
The study also found that the program was most effective for students who applied to OMD before they'd even stepped on campus at City Colleges, Hallberg said.
"Most of these students were applying during their senior year of high school when they were figuring out what was next for them," Hallberg said. "And that offer of a spot in the OMD program close to doubled their enrollment in post-secondary, their persistence, and ultimately their degree attainment."
Hallberg was joined during that panel discussion by Sohoni; Veronica Herrero, CCC chief of staff and strategy; and Joanna Trotter, executive director for global philanthropy at JPMorgan Chase. The discussion was moderated by Dr. Marianne Bertrand, director of the Inclusive Economy Lab.
Although Bertrand pointed out that the trial's limitation meant that researchers did not know which component of OMD was the most important, Hallberg said that comprehensive programs are what may prove most effective.
"Broader literature outside of the study that we did, there have been studies of individual components," Hallberg said. "And they can move the needle, but the places where you see the kinds of impacts that we've seen from OMD are these comprehensive programs that touch every aspect of students' lives."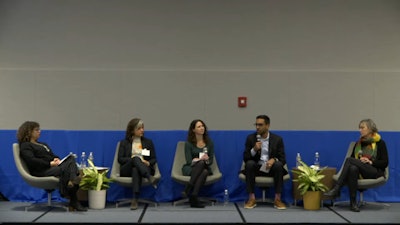 The session that followed focused on the more than $20 million, four-year expansion of OMD, based on findings from the randomized controlled trial. Per the expansion, CCC and OMD will giving students an opt-out offer to participate in the program.
"The two most important ways that the study informed the rollout and the expansion is targeting who the program goes to and when we notify those students," said Marvin Slaughter, IEL senior portfolio manager and session panelist.
Other panelists for that session included Dr. Kimberly Hollingsworth, president of Olive Harvey College; PuraCarina Gonzalez, OMD director of innovation and strategic initiatives; and Tomika Bernstein, a recent Olive-Harvey graduate and OMD scholar, with Lisa Castillo Richmond, executive director of Partnership for College Completion serving as moderator.
Hollingsworth spoke about the difficulties that may come with scaling OMD, namely the different needs of students from the various colleges. Olive Harvey is where the expansion will begin.
"I think the difficulty of scaling something like OMD is the unique cultures of all of the seven City Colleges," Hollingsworth said. "[An Olive-Harvey] student is very different [from] a Malcom X College student. ... And the student at Malcom X is distinctly different from a student at Truman College. So when we're talking about what the true needs of that student are, I think that's going to be a significant challenge to scale because it's going to be different for every institution."
As someone who experienced OMD firsthand, Bernstein praised the effectiveness of the program, mentioning the supportiveness and guidance she was given as a participant.
"I come from a disadvantaged community. And this worked. And I came here during the pandemic," Bernstein said. "If I had that vision of my journey, you guys just put those pieces together for me and you made me understand how to put those pieces together."