The Fourth District Circuit U.S. Court of Appeals will hear oral arguments next month in a 12-year-old education inequality lawsuit between the state of Maryland and a coalition from the state's four public historically Black colleges and universities (HBCUs).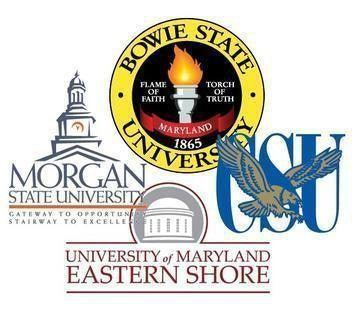 After submitting closing briefs last month after the state appealed District Court Judge Catherine C. Blake's November 2017 ruling, the coalition from Morgan State University (MSU), Coppin State University (CSU), Bowie State University (BSU) and the University of Maryland Eastern Shore (UMES) are now calling for students, alumni and other HBCU advocates to attend the oral arguments on Dec. 11 in Richmond, VA.
Coalition members are calling for a minimum of 200 HBCU students, alumni and advocates to fill the courtroom and plan to have charter buses leave from each of the four institutions, according to The AFRO.
"Morgan State has held two rallies thus far and the University of Maryland Eastern Shore had their rally Saturday the 17th. Bowie and Coppin are currently planning rallies for each campus," HBCU advocate Zattura Sims-El told The AFRO. "The students from all four universities are communicating with each other for one purpose and that is the have Gov. [Larry] Hogan withdraw the appeal, he and only he has the power and authority to do so."
Plaintiffs in The Coalition for Equity and Excellence in Maryland Higher Education v. Maryland Higher Education Commission case – which has been ongoing since 2006 –argue that Maryland has operated a "de jure system of segregation in higher education."
In 2013, Blake ruled that the state violated the 14th Amendment rights of HBCU students and alumni by allowing predominantly White institutions (PWI) to duplicate in-demand academic programs at HBCUs instead of investing in already existing programs.
And in November 2017, with both parties unable to come to an agreement, Blake ordered that the state appoint a "Special Master" that would develop and monitor the implementation of a 10-year remedial plan for HBCUs. The plan outline included the development of unique and/or high demand programs compatible with each HBCU's areas of strength and building capacity; annual funding for each HBCU for marketing, student recruitment, financial aid and other initiatives for five to ten years; and the requirement that any new program at a PWI be reviewed by the Special Master so that it does not harm programs at any Maryland HBCU.
Gov. Hogan offered $100 million to settle the lawsuit in February and announced plans to appeal Blake's order for a remedial plan. Michael D. Jones, a partner at Kirkland & Ellis LLP and counsel for the HBCU coalition said the offer was a "step in the journey to remedying decades of programmatic disparities at Maryland's four [historically Black institutions]," but not the end of the journey, he said in a statement at the time.
Now, the case will be argued in the Fourth District Circuit U.S. Court of Appeals with the potential to go as far as the U.S. Supreme Court should either party appeal the next court ruling.
Matthew B. Fraling, legal counsel and government relations officer at Coppin State, said that it is faculty members like Dr. Charlotte Wood who are keeping students informed about the case. While there has been no formal town hall meeting on campus, faculty pass along information about the case to students and there are plans for students and other supporters to take a chartered bus to hear oral arguments next month, Fraling said.
The case involving Maryland's public HBCUs has similarities to previous segregation and programmatic duplication lawsuits in Mississippi, Tennessee, Alabama and Louisiana. Should another appeal be filed and this current case go to the Supreme Court, the highest court's ruling would have significant implications for the more than one hundred HBCUs in the country.
"I would suspect that it's going to be broad-reaching," Fraling said.
Tiffany Pennamon can be reached at tpennamon@diverseeducation.com. You can follow her on Twitter @tiffanypennamon.