More than a 100 students at Lemoyne-Owen College (LOC) staged a protest following the dismissal of Dr. Terrell L. Strayhorn, a popular vice president of student and academic affairs at the historically Black college located in Memphis.
Strayhorn's job was eliminated alongside six other positions at the small, urban college in the wake of a reported $1 million budget deficit, according to interim President Dr. Carol Johnson-Dean, who has been on the job since August.
"Sometimes you have to eliminate a lot of people to get to a certain amount of money, and I think what we were trying to do is not have a significant impact on every area of the college," Johnson-Dean told The Commercial Appeal.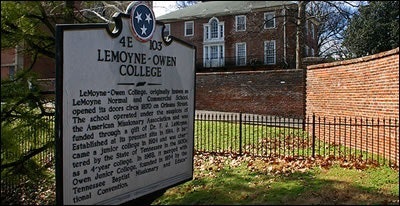 The college currently has 836 students, a sharp decline from the 1000 students enrolled in 2012.
Johnson-Dean's rationale did not sit well with the students who staged a sit-in in Brownlee Hall on Thursday to protest all of the firings, most notably Strayhorn's ouster. The students chanted "We want Strayhorn," as Johnson-Dean urged calm and explained her rationale for eliminating his job.
"The Lemoyne-Owen College has claimed, for a number of years, to be student-centered. The College, however, has never actively worked to prove this. This changed when Dr. Terrell Strayhorn was hired as interim vice president for Academic and Student Affairs," Sainna Christian, president of the Student Government Association at LOC wrote in a public letter to Johnson-Dean. "Dr. Strayhorn has been an avid advocate for the students and has been one of the only persons on this campus who has genuinely expressed and shown interest in the lives of and well-being of the students. To this end, it is an understatement to say that we, the students, are livid at the news that our own genuine support has been let go."
Strayhorn was hired in July 2018 as interim vice president of student and academic affairs by the school's former president, Dr. Andrea Lewis Miller. He eventually was named to the permanent position and was considered by some, including members of the alumni association, to be a leading candidate for the presidency once the board of trustees announced in June that Miller's contract would not be renewed.
Miller, an alumnus of the college, faced calls to step down by faculty, students, and alumni who cited a number of administrative missteps, including questionable hiring and firing decisions, unmet financial goals, and accreditation concerns.
Johnson-Dean was tapped by the board as interim president. The former superintendent of Boston Public Schools, she served as the executive director of New Leaders South Region, a national organization providing leadership development for aspiring principles and teachers.
She told the students that the college is restructuring Strayhorn's former role and will divide up academic affairs and student affairs into separate positions, because having one person doing both roles was not "as successful as we wanted it to be."
But that logic is perplexing to some, given that the college will now have to pay two salaries for a job that was currently being done by one person. Additionally, a source at LOC said that that Johnson-Dean implied in a meeting with faculty and staff that Strayhorn was not a team player "and not a cultural fit for the college," said the source.
The Lemoyne-Owen College job was a start over for Strayhorn, who resigned from his former role as professor and director of director of the Center for Higher Education Enterprise (CHEE) at The Ohio State University amid allegations that he did not follow proper university protocol surrounding paid speaking engagements and appearances. As part of his resignation, Strayhorn agreed to pay $29,000 in restitution to OSU but denied the school's allegations.
A nationally sought-after researcher whose work on student belonging and student success has made him popular on the speaking circuit, also held a faculty appointment as a professor of Urban Education at LOC in addition to his administrative duties. It is unclear if he is still on the faculty.
"Lemoyne-Owen College clearly does not value students as much as it claims to," said Christian in the letter to Johnson-Dean. " Positions which involve student success are often treated with scant regard, and are downright dismissed. The College cannot go on without us, and your decision has greatly impacted our morale and interest in staying here."
Strayhorn said that he was "overwhelmed by the enormous show of love, support and consciousness by so many students, faculty, staff, alumni and members of my team," he wrote in an email. "They have been and forever will be a major source of strength and inspiration for me."
In the interest of full disclosure, Strayhorn is a co-author of Diverse: Issues In Higher Education's annual "Most Promising Places" series.