Like many of the Emerging Scholars, Dr. Efrain Talamantes has witnessed his intellectual ambitions converge with his personal history.
Currently an assistant professor of internal medicine at University of California, Davis, Talamantes has leveraged his education and experience to holistically address issues of equity and diversity in the field of medicine.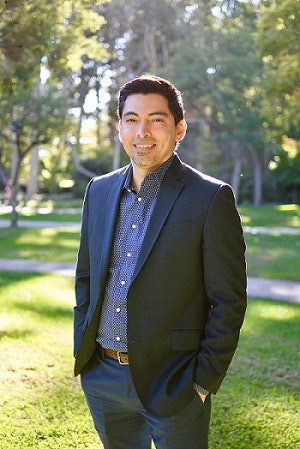 Talamantes grew up in a largely immigrant community in Los Angeles. When his mother injured her arm while working in dry cleaning, an adolescent Talamantes served as her interpreter during her doctor's visits. While he was able to translate the language for his mother, Talamantes struggled to translate the culture. He says several doctors were unable to treat his mother, which caused her to sink into a depression. Doctors would tell him that, if his mother wanted medical attention in the United States, she would need to learn English.
Talamantes says it took about a year for his mother to get the treatment she needed. The months prior were spent in confusion.
"As a kid, I couldn't explain it. I couldn't understand it myself," he recalls. "But because she was uninsured and primarily spoke Spanish, she wasn't able to advocate for herself or really understand what was happening or what was the next step for her."
As a student at an under-resourced high school, Talamantes dreaded his science classes. However, after performing well in a notoriously difficult chemistry class, he felt inspired by the field and was determined to become a biology or chemistry teacher.
It was only when he entered college at the University of California, Los Angeles that he began to understand the impact that a medical degree can have in his community. He was encouraged to pursue a degree in medicine by classmates and mentors, as well as by the effects of his own volunteer work.
"I discovered the power in applying sciences to medicine and the fact that there was so much need," Talamantes says. As he saw the lines of people waiting for medical services during his volunteer work in Los Angeles, he realized that large populations were living with undiagnosed diabetes and hypertension and that they primarily spoke Spanish. "I think once I made all those connections, I couldn't turn away."
He went on to study for his M.D. at UCLA and obtained an MBA from Emory University. His business degree helped him develop the national infrastructure for the Latino Medical Student Association, of which he served as president. Most recently, he obtained a graduate degree in health policy and management as he continued his work in health equity. He is currently the associate director for the Center for Reducing Health Disparities at UC Davis.
Talamantes says one way to make health care more equitable is to use data to look at where the variation in health outcomes is. He emphasizes that patients can no longer be blamed for the lack of treatment they receive.
According to Talamantes, another way forward is to more equally and equitably distribute health resources and professionals. "When you look at rural areas and poor cities, there's less hospitals and clinics," he says. "When we think about workforce, there's an opportunity for us to train a workforce that is not only more culturally responsive but also that can practice where they would like to practice."
Administrators at UC Davis say Talamantes represents the School of Medicine's commitment to health equity.
"I think what struck me is the whole range of activities he's involved in," says Dr. Ralph Hexter, the provost and executive vice chancellor at UC Davis. "It seems like he's tirelessly engaged not only working with undergraduate pre-health students, but of course all of the medical students and residents at our school of medicine."
Although Talamantes works hundreds of miles away from Los Angeles, his experiences in the city continue to motivate him.
"Every day, I feel like we can get closer to really helping millions of patients who are often ignored or blamed for getting sick and not getting better," he says. "I feel like I can get closer to giving back to the community that really helped me get to where I am."
Dr. Efrain Talamantes
Title: Assistant Professor, Department of Internal Medicine; Associate Director, Center for Reducing Health Disparities; Associate Program Director, Internal Medicine Residency, University of California, Davis
Tenured: No
Education: B.S., M.S. and M.D., University of California, Los Angeles; MBA, Emory University
Age: 38
Career mentors: Dr. Sergio Aguilar-Gaxiola, University of California, Davis; Dr. Mark Henderson, University of California, Davis; Dr. Tonya Fancher, University of California, Davis; Dr. Richard Kravitz, University of California, Davis; Dr. Jose Morfi n, University of California, Davis; Dr. Jorge Garcia, University of California, Davis; Dr. Gerardo Moreno, University of California, Los Angeles
Words of wisdom/advice for new faculty members: I have learned to appreciate the exciting, demanding and unsettling leaps of faith we take as scholars. Enjoy the journey and bring others along with you.