Kayla Freeman, a 2016 graduate of Tuskegee University, becomes the first Black female pilot in the Alabama National Guard after graduating Fort Rucker's Army Aviation School. Ranked second lieutenant, Freeman didn't realize how historic and inspiring this event truly was.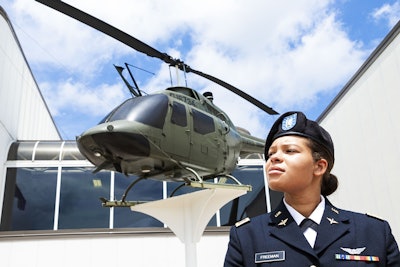 "I didn't think about making history when I started this journey. I just wanted to do the best that I could do and hopefully inspire a few people along the way," she said.
Freeman had her aviator wings pinned by retired Col. Christine "Nickey" Knighton, Freeman's longtime hero, at the ceremony. Knighton is also a history maker, as she was the second Black woman working in the Department of Defense to earn her aviator wings and first from Georgia and was the first woman in the U.S. Army to command a combat arms battalion.
Freeman's role models inspired her to achieve her dreams, leading her to Tuskegee University where she enrolled in the university's historic ROTC program. She owes her accomplishments to discipline, perseverance and faith.
"You can't let mistakes and setbacks keep you down," Freeman said. "Learn from them and continue moving forward. Most importantly keep God first and He will direct your path."