Charles Barkley, a National Basketball Association (NBA) Hall of Famer and two-time Olympic gold medalist, will receive the 18th Lew Klein Excellence in the Media Award in October to honor his broadcasting achievements.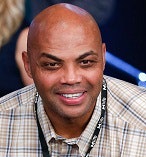 After retiring from the NBA, the 6-feet-6-inches-tall Alabama native shifted his career to the communications field in 2000. He is an analyst for TNT's "Inside the NBA."
Students will have the opportunity to interact with Barkley, 55, prior to the awards luncheon. Other past honorees include Tina Fey, Wolf Blitzer and Whoopi Goldberg, Temple Update reported.
"Charles Barkley is not only a keen analyst of basketball, he is an important and influential voice in American culture," said David Boardman, dean of Klein College of Media and Communication at Temple University. "He was known in the NBA for his ethic of hard work and intensity, and has brought that ethic to his work in media."