Dr. Elizabeth Midlarsky, a Jewish professor at Columbia University's Teachers College who teaches and researches the Holocaust, was heading to her office on Wednesday when she found two swastikas, an painted on the walls outside her office.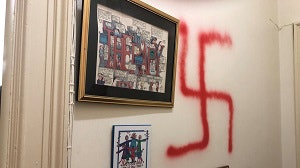 "I was in shock. I stopped for a moment, because I couldn't believe what I was seeing," Midlarsky told the Columbia Daily Spectator.
This wasn't the first time that an incident like this happened to Midlarsky. In 2007, a swastika was spray-painted on her office door and anti-Semitic flyers were in her mailbox, according to FoxNews.
New York Police are investigating.