The University of South Florida (USF) has announced the opening of a new National Pan-Hellenic Council (NPHC) Commemorative Plaza which features nine plots with elevated plaques that represent each of the historically Black Greek organizations under the NPHC.
USF is the first non-historically Black college or university in the state of Florida to have this type of physical representation on its campus, according to a USF release.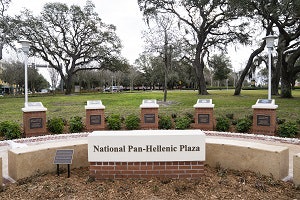 "The University of South Florida System has always been proud to be a place that is open and inclusive to students from a broad range of backgrounds, especially those from underrepresented populations," said USF System president Dr. Judy Genshaft. "Our diversity makes us stronger, as our community is enriched with a wider range of perspectives, experiences and ideas."
The plaza is open to students, staff, faculty, alumni and the public and will serve as a space to meet with friends or for a time of reflection. In addition, the commemorative plaza seeks to recognize and celebrate the achievements of NPHC members and their contributions to educational institutions and communities.
USF organizations involved in the plaza's development include the USF NPHC, Student Government Association and the Mobilizing the Dream Initiative, a partnership between administrators and students to encourage discussion on diversity issues on campus related to the Black student experience.