The University of Central Oklahoma (UCO) president Dr. Don Betz has announced the school is offering eligible full-time faculty a retirement incentive to help balance a recent budget gap created as a result of a decrease in student enrollment.
Betz contacted eligible employees in emails sent on Feb. 8 and notified the Central Oklahoma community about the program in a message stating "the most recent five years of diminishing state support and declining enrollment."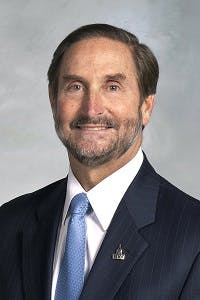 "We have reduced our departmental operating budgets, eliminated vacant positions and allocated carryover funds to bridge the gap between reality and the hope for our circumstances to turn around," Betz said in the message. "The time has come for us to look even more intently at ways to reduce our expenses beyond operating budgets. In an effort to generate savings for the next fiscal year and beyond, the university will be offering an incentive to eligible faculty to 1) retire; or, 2) otherwise voluntarily separate from the university."
University budget reports show state funding have decreased by $12.4 million since the 2014-15 academic year, when they represented 34 percent of the school's revenue. State support now makes up 22 percent of UCO revenue, and tuition and fees make up 70 percent.
The incentive is a sum payment equivalent to 50 percent of the employee's annual salary, according to NewsOk.
To be eligible for the retirement incentive, a UCO faculty member is required to be 62 years or older in good standing and has 20 years or more consecutive full-time service at the university.
Faculty members who choose to take the incentive will retire on June 1, one month before the end of the 2018-19 school year. Retiring faculty will also have the option to return to the classroom in the fall as adjuncts.