Wichita State University's 13
th
president, Dr. John Bardo has died at the age of 70, according to the Kansas Board of Regents.
Bardo, who was said to have transformed Wichita State during his presidency with the development of the Innovation Campus, had been hospitalized since November and received treatment of a chronic lung condition that required surgeries in November and December.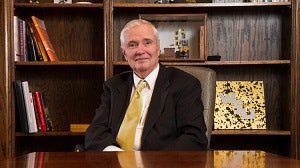 "President Bardo permanently changed Wichita for the better with his vision of what the university could be for its students and the city," David Murfin, a member of the Kansas Board of Regents, said in a statement. "He put a very capable team in place. His legacy is secure."
The Innovation Campus first began as a concept to build a facility or two to house both university research programs and private industry partners. It now covers 120 acres of land east of the traditional campus, on what was previously known as the Braeburn Golf Course.
The campus today includes three engineering buildings, the Wichita-Sedgwick County Law Enforcement Training Center, two residence halls and three buildings that includes restaurants and retail stores, according to The Wichita Eagle.
Wichita State provost Dr. Richard Muma began serving as acting president at Bardo's request in early January. Bardo continued to be interested in the work of the university even during his illness, Muma said.
Bardo's vision for Wichita State "will continue to guide us as we move forward, together," Muma said.
Bardo had been president of the university since 2012.