Purdue University has banned Netflix, Hulu, Spotify, Pandora and other streaming services in academic facilities on campus if a student is using university WiFi. System updates to Apple devices will also be blocked.
The decision to block access to the streaming services is the result of a pilot program run by the university in the fall that prevented student access to five streaming sites in four lecture halls. Since the program began, it has been extended to other academic facilities on campus and the list of banned streaming services has increased.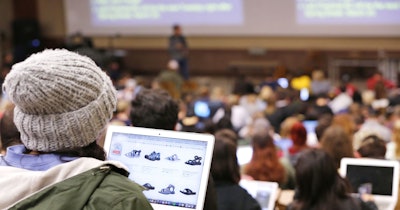 According to Purdue's executive director of information technology infrastructure Mark Sonstein, the streaming services ban was created with a desire to free up bandwidth for academic purposes.
A 2016 IT analysis found that 4 percent of Internet traffic over the university's Wifi in the life sciences building acme from academic sites like Blackboard, the school's learning management system.
In lecture halls, where class sizes can get to over 300 students, several professors recalled not being able to lead online class activities because some students were streaming videos or music during class, according to The Washington Post.
In general, students have been receptive to the ban, Sonstein said.
"They agree with it for the most part, they understand that access to online resources for learning is important."
Students will be blocked from using streaming services while using university WiFi in classrooms, lecture halls and labs from 7 a.m. to 10 p.m. Monday through Friday. On campus residence halls and other social areas will not be affected by the ban.
Students can gain access to the streaming services anywhere on campus using cellular data.