Dr. Steve Currall, provost and vice president for academic affairs at Southern Methodist University, has been named the next president of the University of South Florida (USF).
He will succeed Dr. Judy Genshaft, who recently announced plans to step down as president after 19 years at the university.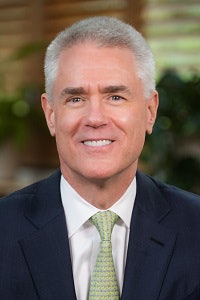 "I am thrilled to be selected to lead the University of South Florida at such a pivotal time in its history," Currall said. "USF's trajectory is unlike any other public university in the country, and there is so much promise. I'm deeply grateful to the Board of Trustees and the USF community for the opportunity to build on the momentum created during President Genshaft's transformational tenure."
In addition to his current role at Southern Methodist, Currall is also the David B. Miller Endowed Professor and holds academic appoints in the Cox School of Business, Dedman College of Humanities and Sciences and the Lyle School of Engineering, according to a USF release.
He has also previously held professorial and academic leadership positions at Rice University, the University of Chicago, Cornell University and the University College of London.
Currall has received over $21 million in research grants, and taught for almost three decades on organizational psychology topics such as innovation, emerging technologies, negotiation and corporate governance. He was lead author of a book on university-business-government collaboration, he has served on several editorial review boards and he is a fellow of the American Association for the Advancement of Science.
Currall received a bachelor's degree in psychology from Baylor University, a master's degree in social psychology from the London School of Economics and Political Science and a Ph.D. in organizational behavior from Cornell University.