Dr. Georgina Dodge, chief diversity officer and associate provost for diversity, equity and inclusion at Bucknell University, has been named vice president of diversity and inclusion at the University of Maryland.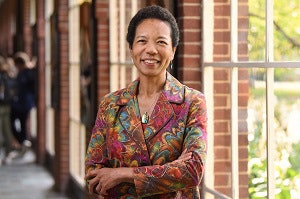 "I am honored to be chosen to lead diversity and inclusion at the University of Maryland," said Dodge. "Across many higher education institutions, I have listened and learned from the communities I serve, and I look forward to partnering across the university to foster a vibrant and inclusive climate for all."
A first-generation college graduate, Dodge brings a unique perspective to the university as someone who pursued an unconventional path to educational and professional success, according to a Maryland release.
Dodge received an associate's degree from Golden West Community College, graduating with honors; a bachelor's degree from the University of California Irvine, graduating summa cum laude; and a master's degree and Ph.D. from the University of California, Los Angeles.
Dodge is a member of many professional organizations, such as the Association of Title IX Administrators and Association on Higher Education and Disability. She also organized the Women of Color Caucus within the Society for the Study of Multi-Ethnic Literatures of the United States. She also was recently featured in a September 2018 issue of Diverse.