Dallon Higgs, a student from the University of Toledo has filed a lawsuit against the institution and two married employees who he alleges disclosed his post-traumatic stress disorder developed in combat and falsely described him as a safety threat to others.
Higgs, a former U.S. Army paratrooper, enrolled in the physician assistant program in 2017 at the school, shortly before the program lost its accreditation.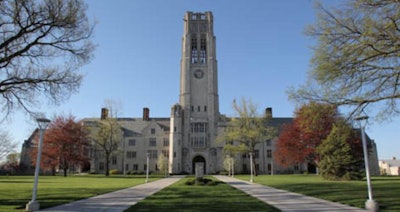 In the lawsuit, Higgs claims the university, his counselor and the head of the physician assistant (PA) program punished him for his criticism of the program and disclosing his personal health information to other university community members.
"Specifically, Defendants engaged in a pattern [of] intentional, reckless, and or/negligent conduct whereby they made false statements regarding Plaintiff's mental health and falsely presented Plaintiff as a threat to others," the lawsuit states.
In November 2017, department chair Dr. Linda Speer held a meeting with PA students and program leaders where they discussed the accreditation loss. According to the lawsuit, Higgs pointed questions at Speer regarding the direction of the program and student resources.
Shortly after, Mychail Scheramic, a psychologist at the university and husband to Speer, told his wife disclosed information from a recent session with Higgs, and they and university officials developed a plan to remove Higgs from the program and portrayed him as a safety threat, according to The Toledo Blade.
However, Scheramic's evaluation found that Higgs was not a threat to himself or others, the lawsuit stated.
"Defendants' conduct was so extreme and outrageous as to go beyond all bounds of decency and was such that it can be considered as utterly intolerable in a civilized society," the lawsuit stated.
Zachary Murry, Higgs' attorney, said the university concluded that his federal education privacy rights were violated. Higgs initially tried to resolve the matter internally, Murry said, however later filed the lawsuit because he did not feel that his concerns have been properly addressed.
Higgs sought help from the university's counseling center after experiencing stress related to new coursework and moving to a new city, Murry said.
"For him to talk openly with a mental health professional….understanding that's in confidence and to have that turned into a sword to hurt him a couple months later and affect his ability to be successful in the program, [that's] why we filed the suit," Murry said.