Dania Matos, who is currently the deputy chief diversity officer at William & Mary, has been named associate chancellor of diversity, equity and inclusion at the University of California Merced.
Matos is the first appointment to the new position, which will serve on Chancellor Dorothy Leland's senior leadership team and is charged with advising the team on issues of diversity, equity and inclusion and overseeing campus diversity initiatives, according to university officials.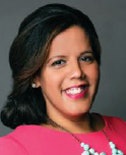 "Dania Matos has an extensive background as a zealous and driven advocate, a champion for equity, and is well positioned to lead us as we continue to serve our diverse campus community," Leland said.
Matos earned her bachelor's degree in International Relations from Brown University and a JD from the Catholic University, Columbus School of Law.
In 2018, she was recognized as one of the "Top 25 Women in Higher Education and Beyond" by Diverse.